Pump Less. Shoot More.
The Umarex® Origin is your all-inclusive first step into the world of pre-charged pneumatic (PCP) shooting. The Umarex Origin's primary objective was to get airgunners shooting more and pumping less. Unlike comparable PCP rifles who require twice the amount of pumps, the Origin's air tank can be completely filled in just 100 pumps for an incredible 40 round shot string. That's half of the pumps required by comparable PCP rifles!
Ever-Pressure Tank System
The magic is in the patent-pending Ever-Pressure Tank System. A uniquely engineered pre-pressurized air chamber compresses the available air in the tank giving you more full power shots with less pumping. As an added feature, the Origin has an auto overpressure air release and easy-fill air chamber.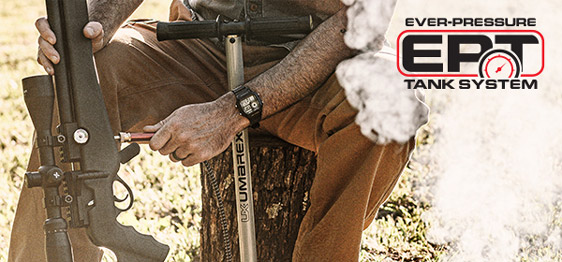 Everything You Need To Get Started Shooting PCP
Getting into PCP shooting has never been more affordable or easy. The Umarex Origin comes standard with a 4500 psi hand pump, pump rebuild kit, fill probe, multi-tool, and two 10-shot rotary magazines. The integrated Picatinny/Dovetail rail makes it easy to add any optic of your choosing. Grab a tin of .22 pellets and you are set for some serious PCP small game hunting or backyard plinking.
SHOP UMAREX ORIGIN