I suspect that many of you are just like me. You love shooting, you love airgunning, but you also have bills. And kids. And a thousand other demands that can make your trigger time slush fund dry up exceedingly fast. Something like a Pre-Charged Pneumatic air rifle that requires accessories in order to shoot can be a bridge too far for folks in this boat.

Believe me, if I didn't have access to a HPA pump due to my job a PCP just wouldn't be in my gun safe or even on the horizon. As cool as they are, it would just be one of those luxuries I'd do without. The positive takeaway from this is that Umarex Airguns has been listening. They have set out to make a rifle and pump combo kit that delivers some really nice features and for an attractive price. One box, two major components and a pleasantly attractive price. Can you go for that? Umarex seems to think you will.
A PCP with Features and Airgun Filling Solution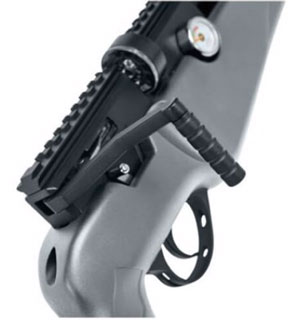 The Umarex Origin is a .22 caliber PCP air rifle, but not just some plain-Jane plinker. It uses the familiar rotary magazines also found on the Gauntlet PCP. These magazines are easy to find, inexpensive, and work really well. Something else that works really well is the side lever cocking mechanism. Located on the right side (sorry lefties!) is a generous sized lever that really sets the tone for the Origin. It's smooth.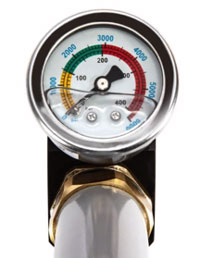 As you may already know, filling a PCP with a hand pump is not the most enjoyable task, especially when starting a fill from 0 PSI. Having been there and done that, I can attest to the sweat and aching that is involved in filling one from E to F. It's just not all that fun. What the Origin offers you is an on-board tank that is pre-pressurized. Huh? The tank is pre-pressurized meaning that whatever volume of air is in the tank, there is additional force pressing against it from a gas ram (a piston, think hydraulic shock). This means that the tank is fully pressurized to take one full power shot at just 13 pumps. It's full, offering 43 full power shots, at 100 pumps.
Can the Umarex Origin Be Your First PCP Air Rifle?
What the Origin .22 amounts to is a really, really attractive air rifle that is meant to be, and I certainly believe is, very persuasive to shooters who have been on the fence about getting into PCP airgunning. The Origin is an air rifle that offers a lot of benefit to the shooter without making huge demands on the shooter's wallet. This is a good thing.
Oh, and while I didn't expound on it above, the UX Origin comes in at a svelte 6.1 lbs. and features a moderated (full shrouded) barrel for quiet shooting. Expect moderately heavy lead airgun pellets to fly in the mid to upper 800's for plenty of small game harvesting power.
Mark Davis, avid outdoorsman, family man, and outdoors writer is the social media specialist for Umarex USA.