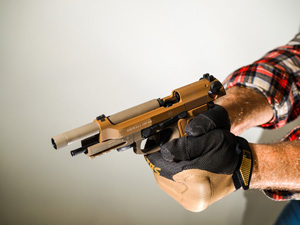 Some of the most popular sellers in the Umarex Airguns catalog of things are our blowback action pistol replicas. And it makes a lot of sense that these would be super popular since we can and do produce replicas, under license agreement, from such esteemed names in the industry such as Beretta, Colt, GLOCK, Heckler & Kock, Smith & Wesson and Walther. This past year has seen the demand for already popular models go to absolutely insane levels. Yes, not only were the local gun store shelves depleted of inventory, but air gun retailers were selling replica airguns as fast as they could get them.
From Real Steel to Air Guns
Not only were traditional airgunners in line to buy replica airguns, but a new crowd joined in the queue-- real steel shooters. The reason is very simple. It became economically expedient to train with an alternative platform or to at least supplement with one. The years of the Trump Presidency were an anomaly in terms of legal threats to the Second Amendment. Days of feast at the ammo and gun counter were the norm for the span of about three years. Prices on ammo had gotten to a downright reasonable level. Casual observation of those shelves during this time of plenty found multiple brands, and loads in each caliber-- a shooter could buy exactly what they wanted, when they wanted, and how much they wanted. Good times, unfortunately, don't last forever.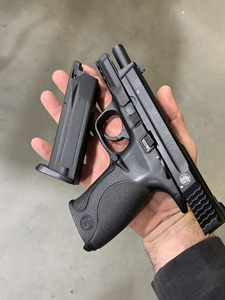 The Covid-19 event changed all of that. The last time I went to nonchalantly pick up a few boxes of ammo was in April of 2020. Even by this time the inventories were beginning to get pretty thin in my parts. A few weeks later, though, would reveal shelves that were bare and have stayed bare since that time. As of this writing, it is only about six weeks from the one year anniversary of normal availability and bargain prices for firearms ammunition.
And it was about at this April anniversary that the demand for both .177 BB and 6mm airsoft replica airgun pistols began to get smoking hot. Shooters were aching to get in some trigger time in the most effective way possible without totally exhausting their own ammo reserves or paying scalpers' prices for run of the mill ball ammo. Self defense trainers and trainees were looking for ways that would allow them to practice to protect with some level of efficiency and repetition without leaving casings on the ground for which there are no primers to reload.
The Pros of Blowback Slide Airguns and Airsoft Guns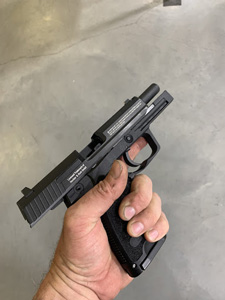 While supplementing training with air doesn't do anything to add to your ammo supply, it does diminish the pain at the sales register considerably. Here in the next few weeks I'll highlight several of our most popular blowback action pistol models. I'll take a look at holster fit (where I can), take-down, features, and anything else that is pertinent to the subject at hand. We will even look at another training aid that has become a huge hit in this last year.
You'll want to follow this blowback air pistol series closely to see what you can get excited about in the airgun world.
Mark Davis, avid outdoorsman, family man, and outdoors writer is the social media specialist for Umarex USA.