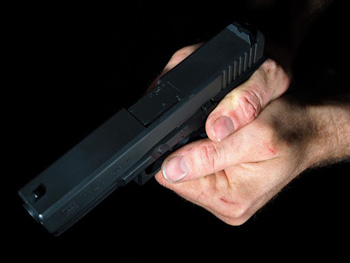 There was a ripple in the space-time continuum a few years back. Actually, it was more like a shot heard 'round the world. Umarex and GLOCK partnered in a license agreement to authorize the first officially licensed airgun replicas from the GLOCK brand. Immediately we here at Umarex USA were bombarded with questions about which models would be produced and when could customers expect new GLOCK .177 airguns and 6mm airsoft guns to appear at retailers. Ever since that announcement we have been working on filling customers' expectations for both quantity of product and diversity of product. It has been no small task, but slowly we are expanding the number of GLOCK models available.
GLOCK Safe Action Takes Over the World
Of course, the first place to start when venturing into all things GLOCK is the G17. The G17 was a full-sized, "wondernine" handgun that offered shooters impressive magazine capacity, lightweight (for its size) handling, and convenient striker-style fire control group. GLOCK called this striker system the SAFE ACTION(r). I remember when the GLOCK brand first appeared on the US market way back in the 1980s. The news media sensationalized the mysterious polymer framed firearm by misreporting, slandering, and outright lying about the supposed "Tupperware" gun. No, it couldn't pass undetected through a metal detector (unless the machine was turned off!) and it wasn't designed to make it easier for criminals to kill cops. In fact and despite some unfortunate accidents with early adopters of the GLOCK platform, the law enforcement community converted to this polymer-framed pew-pew in droves all across the country.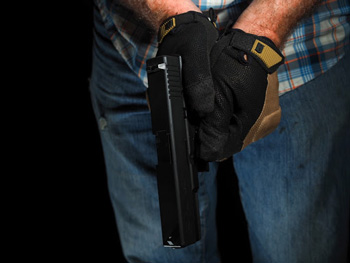 Yes, back in the 1980s it was safe to say that firearms training is not what it is today, and many LEOs were very much accustomed to the double-action revolvers they had been carrying for decades. The SAFE ACTION(r) used by GLOCK was not quite a single action and certainly not a double action. The pull required to touch off a round in the new G17 was around 5.5lbs and the total trigger travel was only about 3/8ths of an inch-- much shorter and lighter than the typical double-action revolver.
Popular GLOCK Culture Phenomenon
Like a wildfire, the GLOCK trend quickly spread through gun shops, agencies, and popular culture. By the late 1980s, rappers were dropping the G word into lyrics, movies were featuring both white hat and black hat characters brandishing the G17, and shooting ranges were increasingly filling with handgun shooters "busting caps" with Gaston Glock's creation.
This is why we turned our attention to the G17 model early on with our air gun replicas. The first G17 to appear was on our Elite Force Airsoft side, the G17 Gen 3 powered by green gas (propane + silicone oil). About 6 months later we introduced the .177 caliber CO2-powered G17 Gen 3 and Gen 4.
Aside from the obvious Gen 3 to Gen 4 differences between those two versions, the primary difference between our .177 G17s was the partial blowback (or half blowback as some call it) system found on the Gen 3 version and the full blowback system found on the Gen 4. While both of our .177 G17 BB guns and all iterations of the G17 in 6mm airsoft have been smashing successes, I'll concentrate on the GLOCK .177 G17 Gen 4 for the remainder of this article.
Practice to Protect with Blowback Air Guns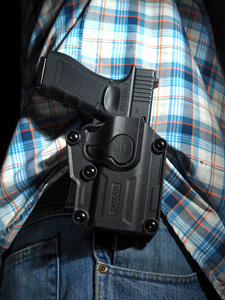 Our Umarex GLOCK G17 Gen 4 is every bit a 1:1 of the firearm. While it does balance a little differently the overall weight is similar to the firearm. This level of realism is a very common theme among our blowback air pistols. The reason for this is that airguns need a much lighter slide in order to utilize the blowback feature. The magazine, on the other hand, tends to weigh in a bit above the loaded magazine found in a firearm.
While I can't vouch for every single holster out there, I've had good luck with the leather pancake holster from USA-made Muddy River Tactical that I primarily use with my Walther PPQ M1 and Walther's brand new PDP. In fact, this holster fits almost any double-stack polymer pistol. I was also able to try out the Cytac Universal Polymer Holster with great success. While I'm not a fan of paddle-style holsters, I can't say a word about it not working with anything I was able to stick in Cytac's holster, though.
A familiar story at this point in this series, the magazine release and slide stop release are all in the same spots and function as designed with this airgun. And, like all the other guns mentioned in this series, the GLOCK G17 Gen 4 field strips in a similar fashion as the firearm. There is no question about the fact that centerfire ammo is both rare and costly in this brave new world we are living in. There is also no question that more and more shooters are turning to Umarex airguns to get in the trigger time they need to stay proficient with their handguns skills.
With a perfect storm of demand set in place these last 16 months, all of our blowback air pistols, including the GLOCK G17 Gen 4 have been flying off the shelves into the desperate hands of airgun fans and the hands of firearm shooters yearning for a reprieve from high ammo costs and lack of availability.
The .177 BB version holds 18 BBs in its full-size drop-free magazine and a single 12-gram CO2 cartridge as well. Is it in stock? Likely as you read this blog, no. BUT, do select the "Notify Me When Available" button on the page so you will get an email when the next batch of airguns arrives. And if you do see that email pop up in your inbox, be ready to buy at that moment. Wait around and you'll see the dreaded "out of stock" notification on the page when you go back.
Mark Davis, avid outdoorsman, family man, and outdoors writer is the social media specialist for Umarex USA