Airgunning has officially turned a new leaf. Pre-Charged Pneumatics are gaining a full head of steam and have become a considerable segment of the airgun market. As such, more and more shooters are picking up PCP rifles as well as the gear needed to run them. When we first introduced the Origin .22 caliber PCP with its Ever-Pressure Tank System, we included a hand pump with it to create an all-in-one product to help entice people who were on the fence with PCPs to take the jump.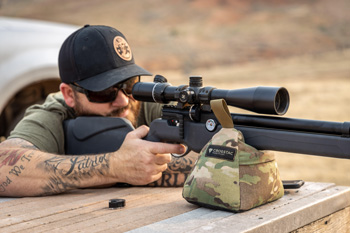 Many people did just that and ordered every Origin kit we had in stock. But just as quickly we started hearing requests for the Origin rifle without the pump. As it turns out, there were a huge number of shooters who already had a pump or air tank system and were just interested in the rifle. The wheels of progress sometimes move slow, but they do move. We finally finished packaging the Origin in .22 without the pump and have made it ready for shipping.
Nothing else is changed about the Origin other than this version's box will not include the pump. The rifle will still come with two magazines and the proper fill probe that will attach to your existing fill equipment.
Impressive Accuracy and Handling
The Origin is an impressive air rifle in that it is easy to live with. It shares the same magazine that the .22 caliber Gauntlet uses which means you'll not have trouble finding spares should you desire them. The Origin is also very convenient to take afield coming in at a svelte 6.4 lbs. Even topped with an optic, the weight factor should come in under 8 lbs. Many people have complimented us on the use of a side-mounted cocking lever. We will gladly take that pat on the back as it does assist in making the Origin a very smooth interfacing rifle.
The key feature that really sets the Umarex Origin apart from any other air rifle out there is the pre-pressurized Ever-Pressure Tank. This tank maximizes the fill volume and pressure to help deliver a consistent shot string using the fewest amount of pumps to get there. If manually pumping the Origin with a hand pump, expect the tank to be fully pressurized with about 120 strokes. Compared to a similarly sized tank on the original Gauntlet, that is about half the number of pump strokes needed to fill it up. This is a very attractive feature for anyone looking to get into PCP air rifle shooting and doesn't have access to a fill station or tank system.
Begin at the Origin!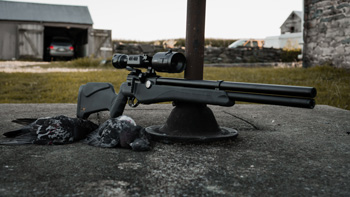 Are you ready for some more good news? This new rifle-only version of the Origin .22 is in our warehouse right now and our warehouse crew is ready to get one (or two!) headed to your doorstep! The availability of everything has been in question for the past year or so. We are very excited to be able to say that this rifle is in stock and ready to go RIGHT NOW! That is if you've read this in a timely fashion because they won't last long. If you are ready to bite on the .22 caliber Origin and don't need a pump, don't wait around. Jump on this!