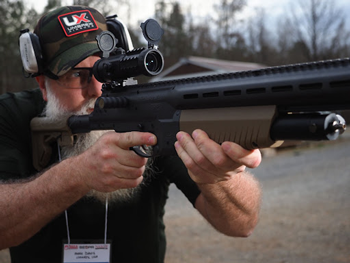 Sometimes it works out that the first and most obvious use for a product is not the only use for it. Afterall, one trick ponies are only good for one trick, right? To focus directly on a case in point, Axeon Optics recently released a cool little prism sight. Obviously this unit is most at home on the popular "black rifles" found in so many gun safes across America, but on a recent trip to the POMA (Professional Outdoor Media Association) Shooting Sports Showcase in Talladega, Alabama, fellow Umarex Marketeer, Breanna, and I slapped this new optic on top of our new AirJavelin Pro PCP air archery gun and really liked what we saw!
For starters, the Axeon Prism 3XRD offers "Goldilocks" magnification of 3X. This hunting-centric sweet spot makes picking out the target, especially on the fly, very easy. Just enough magnification to be fast on target and not so much that the target can be lost while you sort things out downrange. The image quality is exceptionally good, too. The eye easily perceives the scene as this Axeon optic has great edge to edge sharpness and contrast.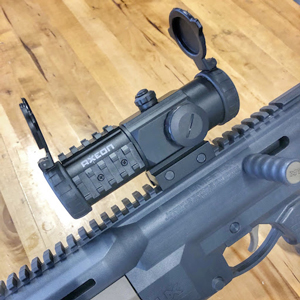 What was really nice about this optic on the AIrJavelin Pro is that the BDC reticle worked out nicely at archery ranges. We typically zero air archery scopes around 20 yards and use either Kentucky windage to place the arrow at longer distances if using a red dot, or the stadia bars for archery type scopes. Since the Axeon Prism 3XRD has an illuminated etched BDC reticle, this similar zeroing practice yields useful shot placements at various ranges beyond the initial zero distance.
Of course one could easily install the Axeon Prism 3XRD on either the AirSaber or AirSaber X2 as an upgrade over the included 4X archery scope. And for a very affordable price of $129.99, this upgrade makes huge economic sense for your air archery or even crossbow set-up!
So what else is going on with the Prism 3XRD? It mounts directly onto Picatinny rail– which both the AirJavelins and AirSabers already have. Additionally, the sight features its own rail sections on both sides and the top of the lens barrel. Included with the sight are front and rear flip-up lens covers. Another nice feature with this sight is a generous eye-box behind the sight. Magnified prism optics tend to have a very narrow eye-box, but the 3XRD somehow manages to squeeze in over an inch of useful territory behind the glass, from about 3 inches to about 4 inches.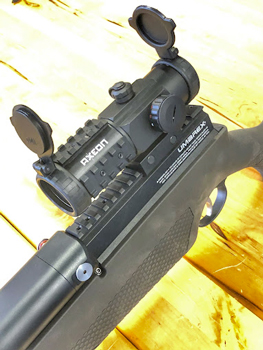 The etched reticle of the Prism 3XRD is really the star of the show. Being etched, there is no need for illumination, but it's nice to know that it is there should you need it. And it's reassuring to know that the illumination can be set to one of five brightness levels in either red or green light. Power for the illumination comes from a single CR2032 battery located on the left side of the optic. Be sure to check out the entire line of Axeon Products on their website, while you are there.
If you have already jumped into the air archery world or are thinking about taking the leap, consider adding this optic to your cart as an upgrade for your AirJavelin, AIrSaber, or even your "stringer" crossbow. I think you'll be rather pleased you did!