What are the odds that a product released today will be around in 20-30-40 years? Very slim indeed. Today's design esthetic leaves a lot to be desired. Trends come and go, but some designs do endure. While the jury is still out on some of the more modern creations, the verdict has been in on the Ruger® 10/22® for decades now. By unanimous decision, a jury of its peers has found the Ruger 10/22 completely and wholly guilty of being the best semi-automatic rimfire ever.
Umarex, the Undisputed King of Licensed Replicas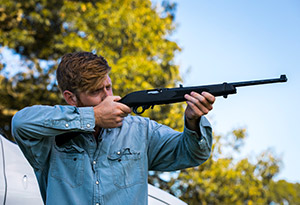 The Ruger® 10/22® is the rifle millions of people think of when "Let's go plinking" is floated about. It's been in continuous production for well over 50 years now. The profile has not changed, but many variations have entered the market over the years. With that kind of pedigree, we are exceptionally pleased to offer yet another version of the 10/22®, our licensed Ruger® 10/22® Air Rifle.
The Ruger® 10/22® Air Rifle shares the enduring good looks of its firearm paterfamilias, even down to the basic operations—all the same. This CO2 powered version will give many shooters the freedom to shoot their favorite plinker in the backyard. Busy life, crowded streets, increasingly crowded shooting ranges all make getting in trigger time a challenge. An air rifle like this can (for most people) offer a shooting solution that can be utilized at home.
Quiet, Convenient, and Familiar
No need for a suppressor for quiet shooting, the 10/22® Air Rifle shoots .177 caliber pellets at subsonic velocities with quiet CO2 power. The drop-free magazine houses a rotary disk that holds ten pellets. Rather than change out the whole magazine to reload, just release the red rotary disk held within the magazine assembly and reload it. Not only is reloading the magazine disk super easy, changing it out for a spare is just as easy. Umarex has spare magazine disks available in a two-pack under SKU number 2244234.
Great Fun at Home or On the Range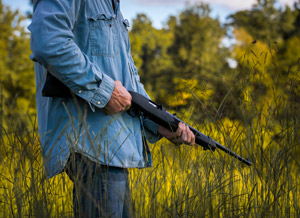 The 10/22® Air Rifle has numerous ideal uses. Given its convenient CO2 propellant and rotary magazine, it's a natural-born plinker. Target shooters have reason to want this rifle, too, as it is certainly cut out for punching paper. The 10/22® Air Rifle is also a good choice for pesting a distances of up to 20 yards. Of course, this quiet air rifle is a great tool to introduce a non-shooter to the fundamentals of shooting without having to don hearing protection or worry about recoil.
Whatever boat you find yourself in, there is no denying that the Ruger® 10/22® Air Rifle is the only licensed 10/22® replica on the market and as such it is the coolest air rifle replica in existence.
You can get this awesome lead flinger headed your way with a click on the link right here!
Mark Davis, outdoorsman, family man, and outdoors writer, is the social media specialist for Umarex USA.