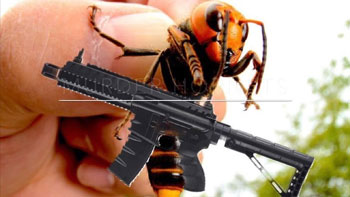 Shooting wasps and dirt daubers has long been a past time of rural sharp-shooters. A handful of BBs and a shady perch in the vicinity of an old barn can keep a person occupied for quite some time on a hot afternoon. And, given that there's reportedly a new flying bandit on the loose in North America, now's the perfect time to hone your sharpshooting skills lest the "murder hornet" set up shop in your shed.
Best Revolvers at Hand
2020 has gotten off to a really weird start and it only seems to be getting weirder by the day. One thing that has never been not weird is a good old fashioned revolver. We happily have a great selection of BB and pellet revolvers but we want to take a look just a couple. First, the Ace in the Hole Single Action revolver launches .177 caliber pellets via a blast of CO2 from a non-threaded 12 gram cartridge. Pellets are housed in a realistic "shell" from which they are shot with each pull of the trigger. With itt's shorter 3.5" barrel, the Ace is fast handling and accurate and ready for you to go all cowboy action shooter on those murder hornets.
The second revolver we'll mention here is the Brodax. The Brodax is a no-nonsense 10-shot double-action revolver that features top and bottom Picatinny rail and comes with two spare bb magazine cylinders. If you are about to get into a big nest, the Brodax offers unmatched speed and ease of use when it comes to .177 caliber revolvers.
Best Rifles for Murder Hornet Assassination
If you like to set up shop a little farther away, a rifle is the answer for you. Once again we will stick to CO2 power for convenience and quick follow up shots. The first nod goes to the Ruger 10/22 Air Rifle. With 10 shots on tap, and spare magazine that's super easy to install, the Ruger 10/22 Air Rifle is the perfect plinker for taking out larger than life stabby flies. With a fresh tin of RWS Meisterkugelns, box of 12 gram CO2, and a stack of spare magazines you can play bug sniper all day.
Lastly, we want to include the "hail Mary" of airguns, the Steel Strike. With 900 BBs in the main reservoir, and two fresh CO2s installed, you can fling the yeet at attacking murder hornets with aplomb. The Steel Strike is a fast handling "Close Quarter's" type air rifle that has a great trick in its hip pocket—6 round burst capability. Slap a red dot or reflex sight on top and pick them off one at a time, or if need be, spray and pray with the Steel Strike's 6 round bursts!
While the above is somewhat in jest, we admonish everyone to be sure to observe safe shooting practices at all times whether you are using a firearm or an airgun. And just to remind you of the 4 Rules of Gun Safety:
All guns are always loaded. (Always keep them pointed in a safe direction.)
Never point a gun at something you are not willing to kill or destroy.
Know your target and what is beyond it.
Keep your finger off the trigger until you are ready to fire.
Too, you should always be extremely cautious around insects. You don't want to anger a potentially aggressive species. Now, let's get to protecting our honeybees.
Mark Davis, avid outdoorsman, family man, and outdoors writer is the social media specialist for Umarex USA.