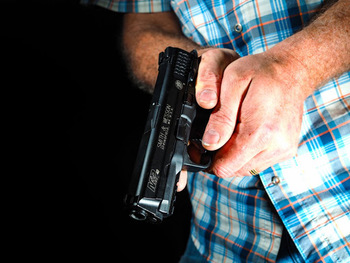 Smith & Wesson really hit on something when they developed the M&P series semi-automatic handguns. The first time I shot one of these pistols was about 14 years ago when I was still teaching school for a living. One of my colleagues owned a few Smith's and he brought them over one cool Saturday morning for a little plinking at my house. I had a very popular compact pistol from another manufacturer at the time. We had a great time and worked on closing the group size from the 7-yard line. While I really like the handgun I had at the time, my friend's S&W M&P 9 left an indelible impression upon me. Smith & Wesson successfully made a serious contender to the then exploding concealed carry handgun market.
Fast Forward to the next decade and I've left teaching and moved on to the air gun industry. This little airgun company, Umarex USA, had planted itself in my backyard, figuratively speaking, and didn't just make generic air guns. Fate would find me gainfully employed there as I exited the education industrial complex. Umarex makes licensed product replicas from several brands including Smith & Wesson. Among the replicas Umarex USA produced at the time were the M&P 40 and M&P 45. These two versions were fairly simple models; the former being a .177 standard action BB only model and the latter being a .177 BB or pellet rotary magazine fed pistol. Both air pistols were solid sellers and were very popular with firearm owners looking to supplement their training regiments with air and airgun fans who loved BBs and the Smith & Wesson brand.
However, we heard a never-ending chorus from the whole gamut of our customer base that a blowback M&P was wanted. We went to work getting the process started for the development of such a product, and, with Smith & Wesson's approval, the blowback M&P 40 was released about 5 years ago. And the blowback M&P 40 was a huge hit with our fans. It was such a huge hit that attaining an M&P 40 blowback was a challenge for the first year or so of its availability. Not only were airgun shooters falling in love with the blowback action version, but firearm shooters were incorporating this 1:1 replica into their training routines.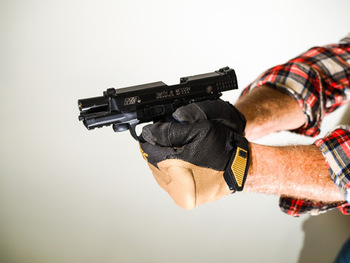 The M&P 40 blowback uses a full-size 15 round drop-free magazine and is powered by a single 12-gram non-threaded CO2 cartridge common to the airgun industry. Because of the blowback action, some velocity is lost when compared to the standard action, but your BBs will still fly over 300 FPS with this BB pistol. The trigger on this version is quite nice, actually. The pull is smooth and light, breaking in the 4lb range but feeling less than that. All-in-all, the S&W M&P 40 blowback is a real treat to shoot and a great training tool for either competition shooting or concealed carry. In fact, I would consider it a "no-brainer" if I carried any version of the Smith & Wesson M&P line.
Smith & Wesson, like every other firearm manufacturer, revisit their product lines from time to time. A couple of years ago the M&P 9 M2.0 was debuted as an update of the tried and true platform. This new version had a few notable differences, such as slide machining, grip texture, and beavertail, but the basic, super reliable, accurate, and easy shooting firearm remained. Not to leave Smith & Wesson fans in the cold, we have M&P 9 M2.0's available in 177 BB as well as 6mm airsoft. Yes, the airsoft market is huge and hot right now and those who are in the know, know 6mm airsoft replicas are the ticket for backyard or garage-based training exercises.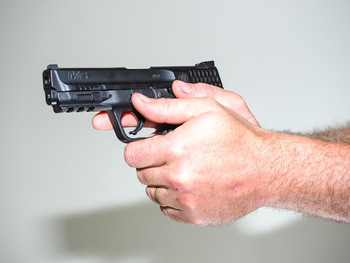 Much like the original M&P 40 blowback, the M&P 9 M2.0 does suffer a little velocity loss due to the blowback action, but because it is considered a half-blowback action, the difference is not as pronounced as it is with the full blowback M&P 40. Expect BBs to fly around the 375 FPS mark with the M2.0 version. Half blowback designs are more efficient with CO2 use than the full blowback systems. The best of both worlds is often found in a half-blowback system. The M2.0 version also features a full-size drop-free magazine but manages to squeeze in a few more BBs (18).
Not only do both of the M&P blowbacks do justice to the firearms they are based on, but they also come with interchangeable grips so you can get the fit you need. How cool is that? The M&P 40 has the smaller grip installed and one larger gip is included. The M&P M2.0 comes with a medium grip installed and a small and large grip in the box. Changing them out is as easy as driving out a pin.
Umarex is the undisputed king of replicas. They don't like to leave the fans of any particular brand in the dust. Smith & Wesson fans need to take a look at both the Umarex and Elite Force Airsoft online catalog pages to see all of the sweet officially licensed Smith & Wesson products that they make.
Mark Davis, avid outdoorsman, family man, and outdoors writer is the social media specialist for Umarex USA.