Speed Challenge Shooting is Fast-Paced Fun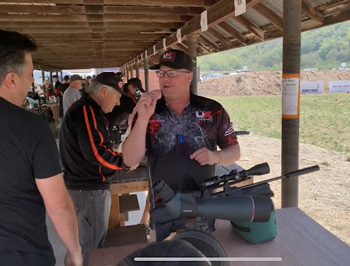 Missed it by that much! Umarex Pro Staffer Eydin Hansen talking to his spotter at RMAC 2021.
It's Friday morning in Utah at the 2021 Rocky Mountain Airgun Challenge and the sound of airgun pellets banging steel is music to the ears. The wind is howling through the valley of the Utah mountains South of Salt Lake which intensifies the challenge across the different stages. The roar of a squad and spectators and the compilation of smiles when a competitor pulls out a close win is joyous.
Eydin the TXHogDude and Umarex Airguns team shooter is sporting the Walther Reign UXT .22 caliber pellet rifle. It's a PCP air rifle with a side lever and a magazine that's unique in that it can be inserted into the mag well from either side of the gun. He says that lever guns are necessary for speed stating that you just can't be fast enough with a bolt action air rifle. At least not in a competition like this. You could create different classes though, meaning you could have a bolt-action only class or even a speed competition for break barrels or under lever pellet rifles.
The Walther is a bullpup rifle that's lightweight. It's ideal for spot and stalk small game hunting due to its short length and composite stock. It's got Picatinny rails and he was using a Axeon Dog Soldier scope with 4-16 magnification. 
The Airgun Speed Challenge Course of Fire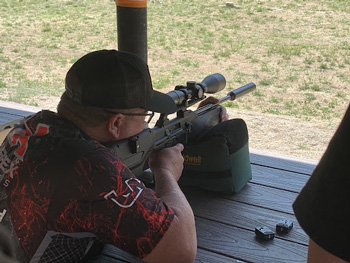 The Wather Reign UXT is smooth and quick to shoot at the Speed Challenge.
There were several stages that made up the speed challenge. Each stage had different targets, different configurations and different shooting positions. One competitor was seen wearing elbow and knee pads which came in quite handy for those stages that required kneeling or prone positions. One stage had a ramp that the shooter was to lay on. There was another with a barricade that had four points and you were required to shoot from those points.
As for the distance of the airgun targets it varied from as close as 10 yards out to 80 yards or so. The targets were steel. Some were lollipop targets, others were knock downs that could be reset from behind the firing line and still others were spinners or paddle.
Speed Duels with Airguns
If fun is what you're after a dueling speed shoot is where it's at. One of the stages Eydin shot involved dueling octagon-shaped knock down paddles. There was a row of blue ones for one shooter and another row of red ones for the other competitor. They digressed in size from large to small and were on an incline from the outside to the center. Each shooter had to engage his color from largest to smallest. It was certainly a game of speed coupled with precision. The crowd surrounding the shooters was relatively quite as the sound of the gun being cocked followed by the thwack of a pellet hitting a paddle ensued. As the shooters quickly shot to the center of the target trying to be the first to knock down all their colored paddles the intensity of the duel grew as did the sound of the spectators. It was a rush of action that ended abruptly the tink of a pellet on a small target with the roar of a crowd and an ecstatic shooter who had just outshot his opponent.
You shot against someone different every time, but every stage required a different talent or technique. Eydin said, "This one stage might involve some distance and you would be good at that but your competitor might be better at quickly acquiring lollipop targets. So you might lose to him or her on that stage but beat him two stages later."
Everyone is a Fan of the Speed Shooting Challenge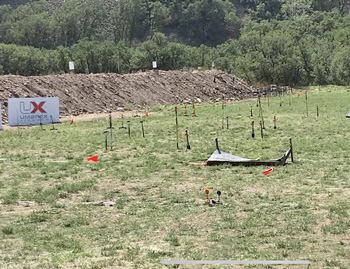 The Wather Reign UXT is smooth and quick to shoot at the Speed Challenge.
I love it," said Rossi Morreale, host of American Airgunner TV show, "This speed challenge is a day of shooting with your buddies. Low stress but high intensity. Every speed challenge stage is the type you'd like to do with your friend but may not have the means to set several of them up. It's one of the best parts of RMAC!"
"I like the head-to-head piece of the speed challenge. The intensity makes it great," said Eydin Hansen. "You have to be fast and calculated. But sometimes it's best to just throw has much lead as you can."
Rick Rehm, aka Shooter 1721, was among the crowd watching competitors shoot mono y mono. He said he wasn't shooting the speed challenge because he was saving himself for the continuation of the 100 yard benchrest competition later in the day. Although Rick did say if they'd put a card splitting competition into the mix he'd be all in.
Noor, The Dollar Sportsman, said of the RMAC Speed Challenge, "It is pure adrenaline shooting, I have been shaking since the second round and I absolutely love it. It's so exciting!"
You Don't Have to Be a Pro to Shoot the Speed Challenge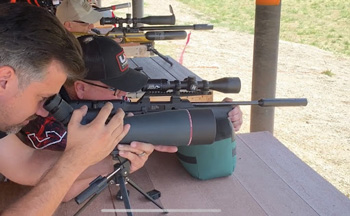 Reading the wind and watching trace– two very important jobs for a spotter.
The speed challenge that Justin Jacobson and the crew from Utah Airguns puts on during the 2021 Rocky Mountain Airgun Challenge might have been a competition but you certainly don't have to be an expert to participate. All you need is an air rifle, some airgun pellets, and decent scope, and the will to give it a go. Of course, a little practice at your home range before you show up wouldn't hurt but in the end if you're having fun while squeezing the trigger then you're right where you need to be.