What Airgun platform is Right for You?
The world of airgunning has had many choices for a long time. What has filtered into most shooters hands out of convenience and economic feasibility has been spring powered rifles. PCP's have been around… for a really long time, but due to their appetite for extremely high-pressure air, and the costs associated with building both the pumps and rifles, PCP shooting was typically reserved for activities where the utmost precision was required.
Things have changed greatly in this past decade. Rifles like our Gauntlet have introduced feature sets that were previously unimaginable and the prices for these type of airguns have come down to levels where most any sportsman can join in on PCP fun. There's no doubt about it, shooting airguns of any sort is a fun and relatively quiet activity. It is also great practice for shooting firearms or staying in tune for seasonal hunting activities. But which platform is right for you?
Springers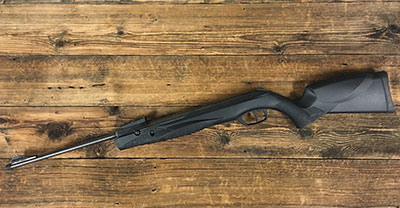 The spring-powered platform has really proven itself over time. Many of the rifles made in the 1960s and 1970s are being handed down to grandchildren. These 40-50 year old rifles still shoot just as good as they did when new. They are also rebuildable which in this day and age is quite an impressive feature! Springers are available in break-barrel, side cocking, and underlever configurations. These three main groups describe how the rifle is charged for each shot. Break-barrel rifles are typically lighter than either side or underlever guns. The barrel itself acts as the cocking lever and makes for a simple, efficient design. Another factor that makes spring powered air rifles very attractive to shooters and hunters is that they offer a stand-alone platform for shooting. You need only the rifle and ammo to handle any amount of shooting you plan on doing. That is it. Shooters are often thankful for design cues that very closely match traditional firearms that they already have in their gun safe. Especially appealing are those rifles made in Europe,like Walther Air Rifles, that have very nice wood stocks and finely blued finishes on the action.
Additional features that have been finding their way into spring powered guns are gas piston power units and recoil reducing technologies. These two concepts work to address the main complaint by shooters of spring powered rifles, vibration. Gas pistons like the ReAxis power unit used in our Octane Elite rifle, take much of the "twang" out of each shot. Our StopShox system further works to dampen recoil impulses to help shooters deliver better follow-through. Topping off the Octane Elite is a noise reducing muzzle device called SilencAir. This, combined with a heavier pellet will help make the smooth shooting Octane quiet and accurate.
Yes, the spring powered rifle can be a challenge to shoot as accurately as one can shoot a comparable firearm, like the .22 long rifle. But this is not necessarily a negative as many shooters have found out. It can actually be viewed as a positive. How so? If you can master a spring powered air rifle, you can shoot any rifle more accurately. Proper spring rifle shooting technique will increase your trigger control and follow-through so that when you get behind your hunting rifle, your group size shrinks accordingly.
Is a springer right for you?
Bullseye for…
Shooters looking to hunt small game.
Shooters who like to keep their equipment simple.
Shooters who appreciate traditional rifle designs.
Off the Mark for…
Target shooters looking for easy hole-in-hole accuracy.
Shooters who have limited arm/upper body strength.
PCPs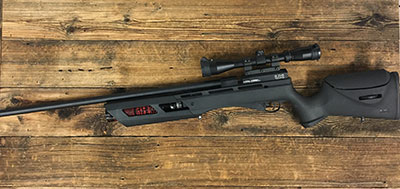 As alluded to earlier, PCP's were pretty much an exclusive tool precision paper punchers used to for a specific purpose—competition. These competition rifles are very, very finely tuned pieces of machinery. Velocities are closely matched for optimal accuracy via regulators onboard the rifle, trigger pull weights are set to a precise measurement in grams, stocks are set up so that one shooter on earth could perfectly fit the rifle—the list goes on. Over time manufacturers released versions optimized for consumer use. Typically these rifles were not regulated and did not feature a space-age stock. But, they were extremely quiet, accurate, and possessed enough power to be used for small game hunting. Even though these rifles existed, they were very much a niche product. The price and inconvenience of dealing with High-Pressure Air was enough to keep rimfire shooters shooting the cheap .22LR for all their target and hunting needs.
But economics found a way. Just like the vast majority of the population has more computing power in their cell phone than what was available in a desktop computer 15 years ago, technology and price in PCP air rifles has flourished in the consumer's favor. What Umarex has done with the Gauntlet is produce a quiet, regulated, repeating bolt action pellet rifle that delivers the power and accuracy that many shooters are requiring. Even after being on the market for nearly two years, the Gauntlet is still ahead of the competition. If you don't mind the work, a high quality hand pump can be paired up with a Gauntlet for a very reasonable price. Yes, this does take some time and a little sweat, but it is worth it. Air tank filling stations are also a good option for PCP shooters. Turning a few dollars into a full tank saves the sweat equity, but maximizes your shooting if you purchase a spare fill tank to carry with you.
But is a PCP right for you?
Bullseye for…
Shooters looking for accuracy with a minimum of effort.*
Shooters looking to keep stealth in hunting endeavors.
Shooters who don't mind "different" styling.
Off the Mark for…
Shooters looking for utter simplicity.
Shooters who are wondering if they have a neighbor kid who could pump up the tank for them.
What To Shoot!!!
This decision is sometimes a no-brainer. Other times it is not. Some folks are looking to air rifles as an alternative to powder guns as a "prepper" rifle. Some folks are looking to eliminate pesky squirrels in urban environments without drawing attention to themselves. Some folks just like to shoot no matter what the platform. Whether you are in one category or multiple categories, finding the right air rifle for you might be an experiment in multiple rifles that leads you to your perfect match. Be cognizant of your needs and capabilities as you progress in your search so that you don't make a mistake in what should be a rather fun purchase. As always, happy shooting!
*pumping is effort. However, shooting a PCP accurately is as easy as falling off a tightrope.
Mark Davis, avid outdoorsman and family man, is the Social Media Specialist at Umarex USA.