Maybe rock and roll isn't everyone's cup of tea in music, but surely the alternative meaning, i.e. select fire is. Come on, man, everyone loves full auto! So without further ado, let's take a look at some of the coolest full-auto and burst mode airguns Umarex has in the warehouse.
PS5? Forget that! Get our Legends Military Replicas
Miffed that Sony had the audacity to price the PS5 in the PC system price range? Stick it to the man and get loaded up on the Legends series MP40 or M1A1 replicas. We've got the real Axis and Allies here with the German MP40 facing off with the American M1A1. Both of these marvelous replicas will fire in single shot mode so you can preserve ammo and CO2, but they can both rip through a whole magazine of BBs in about 2.5 seconds!
Both of these airguns also feature blowback "open-bolt" actions, just like the firearms they are based on and both are solidly built giving more real life feel and function to the shooter. You cannot go wrong with these Legends. Just in case these don't suit your fancy, there are several great replica airguns in the Legends line that were not discussed here. Be sure to check them out by clicking here.
Like AR Pistols or SBRs?
The modern sporting rifle is more popular now than it's been. While the reasons for this are many, we like to pay homage to Eugene Stoner with these two designs, the Steel Force and the Steel Strike.
The Steel Force has been a best seller here at Umarex USA for years. It has a 300 round BB reservoir and stores two 12 gram CO2 cartridges in a drop free magazine. You can shoot-single shot, or use the 6-round burst mode to blast your targets. Keeping things tidy in the back is a multi position "M4" style collapsible stock.
The new kid on the block is the Steel Strike. This little pew-pew looks much more like a pistol platform with its compact adjustable stock and ultra short barrel. The drop free magazine in this carbine holds 900 BBs in the main reservoir. Two 12 gram CO2 cartridges are housed in the "buffer tube". Like the Steel Force, the Steel Strike will also fire in single-shot mode or 6-round burst mode as well.
Black Coffee or a Latte? How About a Pair of Beretta's?
Italy has been working wonders with good coffee and firearms for centuries. Not even joking. While this fact concerning coffee isn't surprising, maybe you weren't aware that Pietro Beretta has been crafting guns for about 450 years. They were among the first to perfect the "wonder nine" in their 92 Series and we've sought to make a worthy tribute to that series with our M92 A1 and the M9A3 blowback replicas.
The "straight coffee" colored M92A1 has the classic lines of the Model 92 with the addition of an accessory rail for lights and lasers. BBs and CO2 are housed in a drop free magazine, but the real cool feature is the little switch on the slide that turns this beautiful Italian creation into a steel breathing machine. But only for about 1.5 seconds. Yes, this thing can do a mag-dump with mind numbing speed.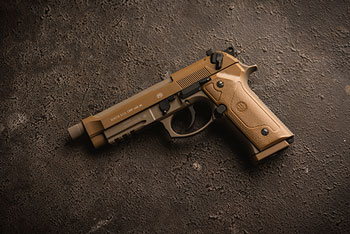 The "latte" colored M9A3 features the slimmer grip profile and texture that was used on the Military version of the gun and also features an under-barrel accessory rail on it's polymer frame. This super sweet airgun is a dead ringer replica and, no surprise, a best seller in our catalog.
Inventories have been known to clear out quick, so keep your eyes peeled for these full-auto favorites and the BBs and CO2 they require at www.umarexusa.com. You might want to click that "Notify Me" button so you'll know when your favorite airguns become available.