The warmer temperatures are here and that means you can fling BBs with impunity with your favorite CO2-powered air gun. CO2-powered airguns work best when temperatures are between 65 and 85 degrees and that means now is the time to get in some trigger time.
So what are we shooting this summer? Read on and find out!!
One of the most budget-friendly BB pistols we have in the Umarex Airgun catalog is the venerable XBG. This economical BB blaster has been in our catalog for years and is always a best seller. The XBG launches BBs at about 400 FPS and uses the Umarex Universal BB magazine. This magazine can be picked up in its two-pack SKU format by looking up 2253517 or clicking here. Because of the thrifty double-action trigger, expect to get around 100 BBs out of each 12 gram CO2!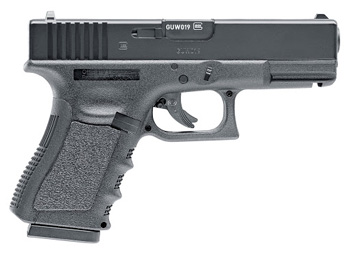 This BB pistol needs no introduction and not much in the way of marketing. From the day the GLOCK/Umarex licensing partnership was announced, the interest was massive and sales have been brisk. The GLOCK G19 Gen 3 is the most affordable of all the GLOCK air pistol replicas and it's the smallest .177 caliber version. No, this isn't a blowback version, but it does make excellent use of a fresh 12 gram CO2 and will accept typical accessories like lights and lasers that will fit GLOCK firearms.
Does the Steel Strike have it all? Large BB capacity? Check. Burst Mode? Check. Adjustable stock? Check. Two-by-12 gram CO2 power? Check. What it doesn't have is you as a shooter. There is no doubt that the Steel Strike is mega fun for backyard blasting. Fill up the HUGE 900 BB reservoir and change out the CO2 cartridges as needed and you'll probably run out of things to shoot!
While the name is a bit misleading (the Cowboy Rifle isn't rifled) what is not misleading is how amazing it is to have a working lever action that uses real shells to hold the BBs--they actually eject!. There is no gimmick to it. This Legends Series creation is downright amazing and offers shooters a downright good time plinking option. Load up 10 shells into the tube magazine and start working that action! Like the Steel Strike, the Legends Cowboy Rifle is powered by two 12 gram CO2 cartridges.

There's no mistaking the silhouette of Ruger's 10/22. There are millions of these .22 caliber rimfire rifles in the gun safes of shooters all over the world. So when we got the chance to pay homage to the world's most popular .22 autoloader, we jumped at the chance. This pellet rifle is powered by two 12 gram CO2 cartridges and holds 10 .177 caliber pellets in its drop-free rotary magazine. Spare magazine disks are also available for this amazing airgun replica!