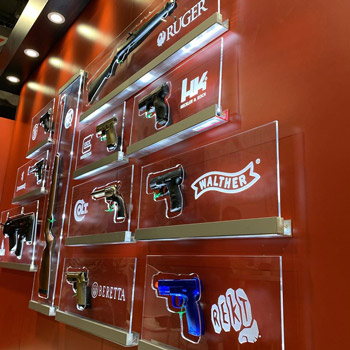 What a day! Tuesday, the first day of the show on the floor, is a whirlwind. It is every year. SHOT Show Rookies are seen scouring booths for swag and toting around every catalog they can find. The seasoned attendees pace themselves and have a scientific approach to seeing the show. They know who they want to see, they go at an even pace, and they don't pick up anything they don't have to.
You see, the flat (and undulating) floor of the Sands Expo Center is more like a winding trail in the woods. And the hike in these woods is one that is several miles long. For the rookie, it might be 10 or more miles long. Each ounce packed in and picked up turns into a pound with each hour. Late in the afternoon we sometimes witness those once-coveted catalogs indiscriminately discarded in the trash bins that scatter the floor.
In the Umarex Booth, we were almost immediately overrun by dealers, media, and even a few celebrities. While we can't reveal all the names due to professional considerations, we can say that it was an honor to have each of these folks stop by and chat with us about the power of air. Really, we were honored for each and every person who took the time to stop by and chat it up with us. It's really quite a humbling experience to be a part of. We want to build accessible air-powered products that push the envelope, create grins, and make our customer's shooting experience much more diverse and enjoyable. Do we succeed all the time? I wish we could say yes. We don't. But like Call says to Pea Eye in Lonesome Dove, "Up north ain't a place, Pea, it's a direction." 2020 is a year where we are setting the course by the compass. Umarex USA is working harder to deliver and live up to our expectations and your expectations.
The evidence of this thus far this year is that we've introduced and launched two products in a new category for us. This was no small feat, and it took the whole team at Umarex to make it happen. Not only this, but the travail regarding the Hammer is now complete. By the time we get back from SHOT Show, we will begin shipping the Hammer to begin filling back-orders. We've learned a lot from this but one thing that isn't changing any time soon is that we will continue to focus on innovation.
Top Five New Products (In no particular order)
The number one position could very well be the air archery tackle, the AirSaber and AirJavelin, that we've introduced. But since we've already spoken about those, we will move on to (drum roll, please) the ReadyAir high-pressure air pump. Yup, we're planting a flag in yet another category. It's no secret PCP airguns are hotter than a firecracker right now and getting hotter. It's also no secret that filling the tank of a PCP can be a huge hurdle, especially if you like shooting a lot. We designed a pump that will work at home or in the field—well, not too far afield. The ReadyAir pump can be powered by 110V AC current or 12V DC current. Additionally, there is no need to oil the pump nor does it use water for a heat sink. Essentially a maintenance-free design, the ReadyAir has twin fans and large cooling fins to disperse heat. But if it gets too hot, an auto protection circuit will activate to shut the pump down before any damage occurs. The ReadyAir is made for you shooters who love to spend the day at the range and shoot tin after tin of pellets.
Number two position on this list we will allot to the Origin. The Origin is a PCP air rifle that is being sold as a kit with an HPA hand pump—with a catch. The catch is that the Origin's air tank is pressurized really quickly. How so? That answer comes in the form of a pre-pressurized air cylinder. "Do what", you might be thinking. That was what I was thinking, but, yes, there is a gas ram inside of the air tank that maximizes the efficiency of each fill. For a single full-power shot 13 pumps are needed. With 100 pumps, less than half of what it takes to fill the Gauntlet, a shooter can take 43 shots. Who is the Origin for? It's for the person who is looking to get into a PCP and not sure if they want to go whole hog on the deal. With the Origin, you get a PCP with side lever-cocking, rotary magazine, and 4,500 PSI hand pump for a very competitive price of $349.99 MSRP.
For the number three spot, we'll carve out room for the Fusion 2. The original Fusion was a single shot CO2 powered air rifle that was very accurate and compact. A natural choice for backyard plinking in confined environments. We took the Fusion back to the drawing board and made some changes that we think you'll love. It's still powered by two 12-gram CO2 cartridges, but we've changed the CO2 piercing mechanism for easier use. Not only that, we've added a moderator to the muzzle for even quieter shooting and a 9-shot rotary magazine. This air rifle is an absolute joy to shoot. While setting it up for our sales meeting late this summer, I shot several magazines into a target set at 25 yards with the same result every time—1/2" or smaller groups. It was so accurate that I couldn't wait for our sales representatives to shoot the Fusion 2 on the outdoor range at the sales meeting.
We will call the number four spot for the Legends M1A1. While the news on this one got out several weeks back, the amount of folks who saw this tribute to WWII and prohibition-era gangsters as a genuine smile maker was very impressive. The looks are there, the feel is there, and the fun switch is there. Not much more needs be said about the Legends M1A1 other than we expect it to be in stock early this spring.
While there were several more new products that we are revealing here at SHOT, it is getting late and I promised your five, so without further linguistic tomfoolery, we'll call the number five spot for the .22 Caliber Synergis. .22 caliber air rifles are becoming more and more popular with small game hunters and preppers. Folks looking to have accuracy and knock-down power will be able to find that in our underlever 11 shot rotary magazine .22 caliber Synergis. The Synergis has become my go-to rifle for a quick shooting session. Now in .22 caliber, it will make an inspiring small game rifle or plinker.
I will try to crank out another blog before I head back to the homeland on Friday. As I've come to realize, by Wednesday the sleep deprivation and long days are taking their toll on energy levels. Here's to having a great 2020! Over and out for now!
Mark Davis, avid outdoorsman, family man, and outdoor writer is the social media specialist for Umarex USA.