For those who may not know, Arkansas is our home—the stomping grounds for those of us at Umarex USA since 2006. Yep, that means we're celebrating our 15 year anniversary in operation as the U.S. division of UMAREX GmbH & Co. KG. in 2021.
Arkansas is a gun-friendly state. The proof isn't necessarily in the pudding but more appropriately in the number of gun, ammo, and firearm related companies that have chosen to make the Natural State their home. I wouldn't say the sheer number of firearms companies calling Arkansas home is coincidental either.
Firearm and Ammunition Companies in Arkansas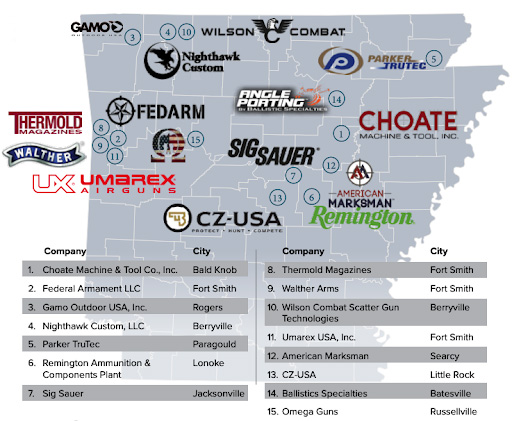 The State of Arkansas and its Economic Development Commission keeps the firearms and ammunition industry in its sights. From manufacturers to businesses involved in sales and distribution, the gun industry in Arkansas is diverse. Companies that have operations in AR include SIG SAUER, Remington, Walther Arms, Nighthawk Custom, Thermold Magazines, Wilson Combat, and of course, Umarex USA, which is home to Umarex Airguns, Axeon Optics, Elite Force Airsoft, P2P less-than-lethal pepper ball guns, T4E-Training for Engagement training platforms for law enforcement, Exude Light, and Rekt CO2 dart launchers. A couple of our competitors in the airgun industry, Daisy, Gamo, and Hatsan, also call Arkansas home.
As a pro-second amendment state, Arkansas welcomes firearms and ammunition companies looking to start-up, expand, or relocate. You can see why at the AR Economic Development Commission's website. Not only is it home to Walmart, Tyson, Dillards, and Windstream, it offers four major forms of transportation and was noted as the 2nd most gun-friendly state by Forbes in 2015.
The above named guns, firearms, and ammo operations aren't alone. Arkansas is also home to Choate Machine & Tool, Federal Armament, Parker TruTec, American Marksman, CZ-USA, Ballistics Specialties, and Omega Guns. Together all these gun-related companies give jobs to over 3,250 skilled Arkansans and are spread throughout the Northern half of the state where waterways, airports, and highways are easily accessible.
A Gun-Friendly State. Airguns Too.
With so many firearm and gun-related companies setting up shop in Arkansas it probably goes without saying that Arkansas is a gun-friendly state. Throughout the state you can find public access shooting ranges in addition to numerous private shooting ranges. We like to frequent Old Fort Gun Club which is less than a 10-minute drive from the campus we share with Walther Arms. And of course there are countless firearm dealers and sporting goods stores that carry airguns and ammunition such as Arego's Guns in Hot Springs, Chaffee Outfitters in Fort Smith, and Infinity Sports & Outdoors in Alma.
Arkansas became the 12th state to allow deer hunting with a big bore air rifle in 2018, just before the release of the Umarex Hammer .50 cal and we're hoping that the state's Game & Fish Commission will adopt the use of air archery for deer in the coming seasons and personally, I'm hopeful they'll allow the use of a .22 caliber pellet rifle for turkey.
JB is just a man in pursuit of a deeper relationship with God, a lover of his wife and family, the outdoors, and moments of quiet stillness when not shooting, fishing, camping, or hiking.