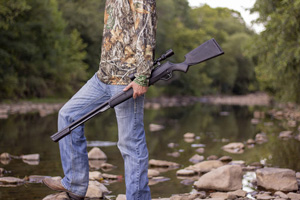 PCP air rifles have sucked up a lot of air these past few years. Maybe "consumed" a lot of air would be the better way to say it, but nevertheless, Pre Charged Pneumatic rifles, as handy as they are, are just not everyone's cup of coffee. One distinct advantage that high pressure airguns (HPA) have had over traditional spring and gas ram piston powered pellet rifles is their bolt action activated rotary magazine. PCP shooters have been sitting in the lap of luxury only needing to work the bolt action to advance to the next round.
Springer shooters, however, had to break the barrel over with brute force and dig around in the pellet tin for each and every pellet shot. Oh, a pellet pen loader could streamline the process somewhat, but you get the idea. But that's what makes the Umarex Synergis (available in .177 and .22 calibers) really special is that we've taken the best features from both worlds to make a very impressive air rifle that we think you'll love. Sit tight for a second and we'll go through a few reasons why the Synergis changes everything for spring gun shooters.
Reason No. 1: Superior Pellet Rifle Firepower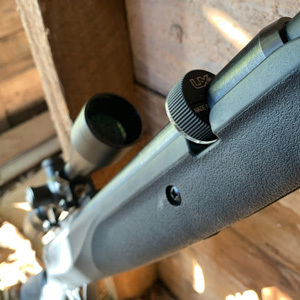 In .177 caliber, the Synergis rotary magazine holds 12 pellets! Slide in a whole dozen pellets and head out to the woods for a hunt. Chances are you won't need that many for good squirrel or rabbit hunt, but you won't be digging around in your pocket or pellet tin for a reload if you need to get in a quick second shot. And if you are in the mood to stack some pellets on top of each other at the range, pick up as many its spare RapidMag magazines as you need and load them up before you head out. Even in .22, each magazine still holds 10 pellets so you'll be sitting flush in the firepower department.
Reason No. 2: Fixed Barrel Pellet Accuracy
Break Barrel rifles are pretty good. Not great, but pretty good. They get the job done well enough, but the fact is that the barrel, when it returns to battery, could be in a slightly different location than it was for a previous shot. Now it won't be so different that it makes an appreciable difference from practical air rifle ranges, but precision shooters can tell. Underlever and side-cocking air rifles have been the go-to for spring powered precision shooting for years. The receiver and barrel are fixed in relation to each other so there's one less thing to blame your misses on. The UX Synergis does employ the underlever cocking method. No, you can't blame your misses on barrel misalignment with this one!
Reason No. 3: T.N.T Gas Piston Air Power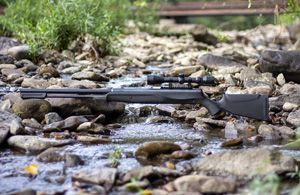 One of the biggest revelations in the springer world has been the gas ram piston mechanism. This device, which looks like the lift gate strut on a car, takes the place of a coiled spring. The distinct advantage of the gas pistol is that it minimizes the vibration found in traditional spring air rifles. Vibration kills accuracy if not dealt with properly. With a gas piston in place, it gives the shooter an edge by being much more forgiving of the hold used by the shooter. It doesn't completely let the shooter off the hook, but it does give him or her some grace.
Reason No. 4: All-Weather Synthetic Stock
Yes, wood stocks are hard to beat in the eye candy department, but all too often life in the brush and field leave deep scratches in the rifle stock finish or damage from moisture. I know I've seen plenty of guns that looked great hanging on the wall, but would never be taken afield for that very reason. We know that people looking for a hunting and plinking rifle aren't buying it so they can decorate their walls. Both the .177 and the .22 Synergis come with a tough and comfortable all-weather synthetic stock so you can take it out in the woods without worry.
Reason No. 5: Leave the HPA Tank at Home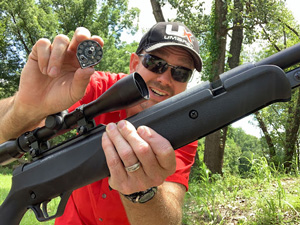 No need to fill the tank of the Umarex Synergis because it ain't got one! The Synergis does not need to be kept in close proximity to a source of HPA power-- that is, a source of power other than the pull of it's cocking lever. No electricity? No problem. No pump or air compressor? Once again, no problem. Just you, the rifle and some air gun pellets. The Synergis platform is an excellent option for shooters looking for a repeating air rifle that is not a PCP, is not butt-ugly, and can get the job done in the woods.
These are just the highlights for choosing and shooting the Umarex Synergis. There are many other reasons to choose this affordable (see, there's another one!) pellet rifle. Think I missed one, like the low profile magazine that allows low scope mounts (*wink*)? Tell us about it in the comment section below!
Mark Davis, avid outdoorsman, family man, and outdoors writer is the social media specialist for Umarex USA.