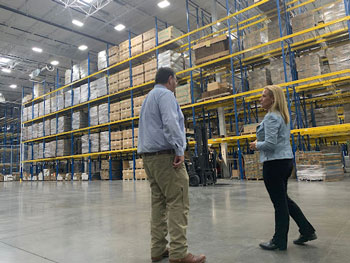 Late summer is generally a slow and boring time for the outdoors industry. The ramp-up for the holiday shopping season has not yet begun and shoppers are getting their children outfitted for the just-days-away start of school. While it may be slow, we've typically got a full plate as we are continually looking ahead to the challenges the coming months will bring. Nevertheless, it's never a good time to "blink" or miss a day because you never know just who might show up.
Case in point: on what was slated to be just another run-of-the-mill hot August Tuesday we were honored by a mid-day visit from Arkansas Attorney General Leslie Rutledge. She didn't stumble in here by accident and she wasn't looking to investigate us. No, AG Rutledge is very much a defender of the Second Amendment so her visit was entirely on friendly terms. I think she left thoroughly impressed with the cutting-edge products our respective companies produce but also encouraged by the strong performance of Umarex/Walther as an anchor to the industry in the River Valley.
The Business Link: Germany and Arkansas
It's hard to sum up the entire scope of an operation of this scale in a short visit, but Umarex USA President and CEO, Richard Turner, and Walther Vice President of Marketing and Product Development, Jens Krogh, managed to do a fair job in hitting the highlights of our joint operations headquarters for Mrs. Rutledge and her guests on the tour. Since each part of the operation is so closely intertwined with each other, there really was no "Umarex tour" or "Walther Tour". Both Turner and Krogh were extremely proud to show off the new manufacturing capabilities of our facility here, and rightly so. The existing products that we manufacture and have on the market right now are a testament to the top-notch employees we have working there and the technology they are using to drive the pursuit of excellence.
Innovation, Cooperation, and Service
It's busy under our 185,898 square-foot roof. Not only do we warehouse all of our products, we ship and receive products and raw materials, handle sales and marketing needs, develop new products, perform quality evaluations, and service customer's products-- and as mentioned above, we are making more and more items right here as well. So yes, we do like to brag about what is going on here, and when a friend of our industry and a leader in our government like AG Rutlege stops by, we will certainly work to spread our joy of being homed and supported by a state that wants the best for all of its citizens. The smiles around here are genuine and contagious!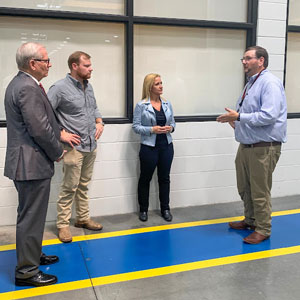 We are also proud that Arkansas is home to a growing list of companies in the shooting sports world. Arkansas has opened its arms to manufacturers looking for a home where they can find support on every level of the culture. Arkansas is home to hard-working, industrious people who appreciate freedom. We can't think of a better home for Umarex and Walther. With that said, we would like to send out a sincere public, "Thank you" to AG Rutledge for taking a little time to see our operations here in Fort Smith.
Check out this blog for more info on other great Firearm and Ammunition Companies in Arkansas.