This isn't just marketing fluff-- don't wait around this year to get your holiday shopping started. For one, there is a decent chance you have a few extra clams in the pocketbook, but the real reason is there are still on-going issues in the retail shopping space. Inventories are for some things are fine, but for other things it is bad. Some items are in stock, but only in limited quantities. And then there is the unknown factor: will a lock-down shut shipping down completely? Will manufacturing shut down? Will demand spike unexpectedly? Will inflation kick into overdrive?
If you are weighing questions like this, it's likely that you understand, based on the previous two years, that a black swan event or something lesser can happen to rain on your parade. There's been several times since the madness began where I was sorely disappointed in either my purchasing power or my foresight to pick up stuff that only days later was completely sold out or saw incredible price increases. In the next few blog entries we want to highlight some of our high demand products that are available and deliver top customer satisfaction. As the title indicates, we are focusing on rifles in this first issue.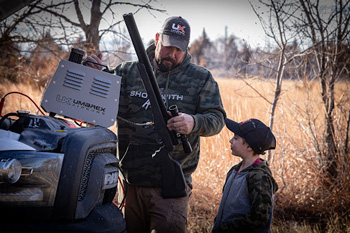 A True Original: Umarex Origin .22 Caliber PCP
Whether you get the kit that comes with the pump or the rifle only version, the Umarex Origin is an entry level PCP to reckon with. The fact remains that this pre-charged pneumatic air rifle has serious power. The unique feature of this rifle, the Ever-Pressure Tank System, allows for the tank to be fully pressurized with only 100 pumps. If you are going to hand pump, you might as well save yourself some trouble and maximize your efforts by shooting this remarkable air rifle. It is nothing unusual for shooters to get 70 really solid, fairly consistent shots from the un-regulated PCP. This is really something quite amazing. Most unregulated rifles will not shoot anywhere near that many shots as consistently. While this rifle isn't really a tuner's rifle, playing with the hammer spring adjustment can net some even more impressive results. Check out Hajimoto's excellent YouTube review of the Origin to learn more.
A Bullpup to Reign Them In: Walther Reign XT PCP in .22 or .25 Caliber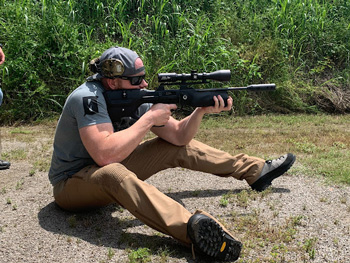 You have no idea how excited we were when our German counterparts rolled out the Walther Reign a few years back. If looks could kill, we'd have been smoked. It was the whole enchilada: compact, powerful, accurate, ergonomic, and fully ambidextrous. Likewise we were amply stoked when we learned that the Reign was coming to US shores as well. The Reign XT is everything you would expect it to be-- the above characteristics plus an easy user interface. Like several of our other PCP rifles, this one also uses a rotary multi-shot magazine. If you are left handed, simply switch the cocking lever over to the other side and insert the magazine on the opposite side as well. That's all there is to it. If you are looking for a real treat for yourself or a loved one this holiday season, the Walther Reign XT is certainly a good way to spoil someone! Expect the .22 version to shoot in the 900-970 with most lead pellets, and the .25 caliber version to shoot in the 800-870 range with common lead pellets.
You'll Shoot Your Eye Out!: Walther's Lever Action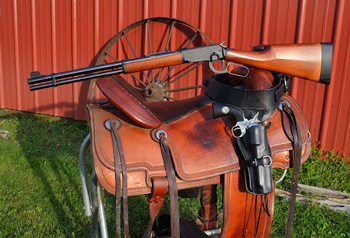 We know our Legends Cowboy Rifle has been getting a lot of attention the last couple of years, and rightfully so. It is just a superbly fun air gun. But there is another lever gun lurking in our catalog-- the Walther Lever Action.Yes,like the Legends version, this is a working lever action, and yes, it is powered by CO2. But unlike the Legends version, this one is designed to shoot pellets and is the only rifle in our catalog to use the 8-shot rotary pellet magazine that many of our high-end CO2 powered air pistols use. Whereas the two rifles mentioned above are serious hard hitting hunting and target shooting rifles, the Walther Lever Action is really not suited for hunting. Well, that might not entirely be fair-- a hunter would have no issue dispatching yard-bound squirrels, chipmunks, and rats. The Walther Lever Action is really just a mechanical wonder, made in Germany and geared for pleasure shooting and showing off. There is no denying it, this is one of the coolest air rifles on the planet. And, in case you are wondering, yes, it is accurate. Need proof? Look no further than Shooter1721, Rick Rehm, for confirmation. The Walther Lever Action combined with a good pellet and the Umarex 2X12 Gram CO2 Adapter are the hot set-up for the airgunner who likes to brag!
One From Ruger: Ruger Targis Hunter Max .22 Caliber Break Barrel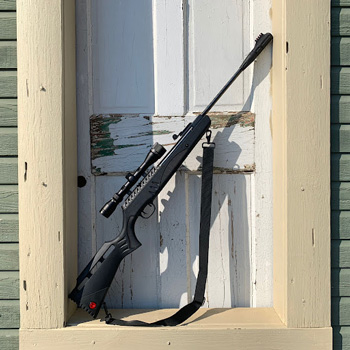 All of the air rifles mentioned above are PCPs, pre-charged pneumatics, or CO2 powered. While PCPs are the hottest thing going in airguns right now, they aren't everyone's cup of overly stout coffee. Spring powered air guns still make up the bulk of all air rifles sold. The biggest thing going for them is the sheer simplicity they offer the user. All that is needed to shoot a springer is ammo, yourself, and the rifle. That's it. With a PCP, you will need a pump or some external filling method. There's just no way to get around it, a PCP is useless (for its intended purpose) if the tank is empty. A springer (or gas piston) air rifle like the Ruger Targis Hunter Max is Johnny-On-The-Spot when you need it every time. Just break open the action, load in your favorite pellet and return the barrel to battery. The safety is automatically engaged, so whether you are stalking a bushy-tail or cottontail, the rifle is ready to go from here by simply disengaging the safety. One of the other reasons this Ruger is a great option for the small game hunter is that this air rifle comes with a sling and sling attachments built into an all-weather polymer stock. Offered in hard hitting .22 caliber, this TNT Gas Piston is a no-brainer for the prepper, or just a regular small game hunter looking for an alternative to hunting with a firearm.
And Another From Ruger: The Ruger Explorer .177 Break Barrel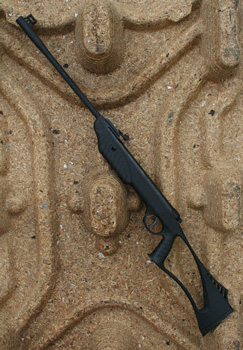 Even though I'm a fairly tall guy, I still loved shooting the Ruger Explorer .177 caliber break barrel pellet rifle that I bought for my kids several years ago. While this is a youth sized rifle that shoots about 500 FPS, it is not a hard rifle to shoot as a "full-sized" guy. The 500 FPS velocity is perfect for punching paper and shooting tin cans or even steel targets and traps. Lower velocity springers like the Explorer are also more forgiving with pellet choice so it's easier to get good accuracy out of the rifle. The Explorer was made to help move younger shooters into an appropriate sized air rifle and hone shooting skills needed to be an accurate shooter. The cocking effort of the Ruger Explorer is minimal, only around 17 pounds which makes the cocking process accessible to a wide variety of shooters.This is a great rifle to move younger shooters into once they get bored with spring powered BB guns.
We Sure Could Use a Little Good News Today
Anne Murrey was looking for a little good news today, but unfortunately the best news I have is just a repeat from the first paragraph. If you want it, if you think you are going to need it, or you will want to give it for Christmas, you had better get started looking for it today. As I write this there are well over 50 shipping vessels sitting in the port at Los Angeles. There's not enough truck drivers to move materials across the country, or at least that's what we are being told. Who knows what restrictions or ramifications will arise from the ongoing pandemic. The world has changed and we are hanging in there the best we can. To take advantage of inventory that is available now as it might not be available for long!