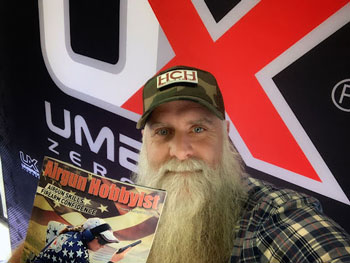 Hey Umarex Fans, we've got an October Surprise for you and we think you will love it. No, this is an off-year so we don't have any political dirt to dump, but we do have a limited number of the nittiest and grittiest airgun magazine out there, Airgun Hobbyist's October Issue. The surprise is that we are stuffing a copy of this issue in every order made from our website while supplies last.
No, we don't have a gazillion of them but we do have quite a few. In order to get one, you'll need to order early in the month as we'll likely have many more orders than we have copies of the magazine. You don't have to buy a certain dollar amount and you won't need to add anything to your cart or even use a special discount code. We are just giving you the hook-up for a very sweet issue of Airgun Hobbyist.
But Wait, There's More!
As a shameless plug for our own resident Sasquatch, Mark Davis, you'll also find an article written by the same within the leaves. In his article, he waxes eloquently (as much as it is possible for such a cantankerous character) on the new Smith & Wesson M&P 9 M2.0 with a nod to the older S&W M&P 40 blowback as well. Don't tell anyone that the Squatch was just trying to develop a fanbase for his mediocre style of hunt-and-peck word wrestling.
Both Mark and Tim Smith, publisher of Airgun Hobbyist, will be thrilled that you devour this complimentary issue (with your eyes, people) but we would also be even more thrilled if you ordered a subscription to this fine publication. Tim is a hardcore enthusiast-- I mean you'd have to be hardcore to publish a magazine about your hobby, right? Aside from being a huge fan of all things air, he's just a great guy, too. We've enjoyed meeting with and talking to him at various industry events as well as communicating via email and phone throughout the year.
Blame Airgun Hobbyist
While we'd like to take credit for the idea, this falls square in Tim's lap. We are just the messenger! So don't miss out! And remember, this is all based on the old first-come-first-serve-while-supplies-last condition. If you wait around you will miss out on a real treat! Don't miss this October Surprise and hit our website today!