One of the things we do really, really well here at Umarex is crafting replicas of many manufacturers' popular models. This is done with licensing agreements that allow us to make BB and airsoft replicas of some of the most popular firearms in the world. It's good for everyone involved, especially the consumer, as you can get your paws on a replica of your favorite model for a fraction of the cost.
As such, we've pilfered the interwebs and the cobwebs of our memories to think back on where our coolest replicas are found on the silver screen. So without further ado, here are the first eight films in our three-part series of movies featuring firearms of which we make awesome replicas.
1. The MP40 is a Legend in The Big Red One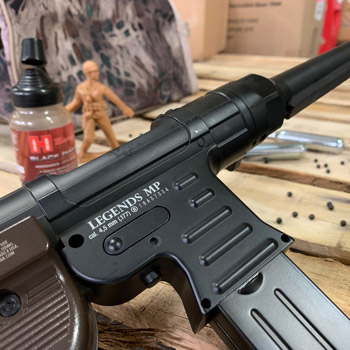 Our favorite film featuring the German MP40 is The Big Red One (1980). This film chronicles the 1st Infantry Division as they fight through North Africa, Italy, France, and finally, Germany. This classic war film stars former Marine Lee Marvin as Sgt. Samuel Fuller. Mark Hamill and Robert Carradine are also notables in the cast. This is a war movie about soldiers. Readers among you will draw parallels the literary classic All Quiet on the Western Front as this is a story about the camaraderie of a core group of soldiers as they fight and live for another day while green replenishments aren't so fortunate. This movie was made in 1980 and is a must-see for war film buffs. The German MP40 is featured in the hands of German soldiers in several scenes in the movie, but the most notable scene is set in an insane asylum where character Rensonnet declares, "I am sane!" with the MP40 in his embrace. Check out our Legends MP here!
2. You Can't Escape From McQueen's P08
While the soundtrack for the Great Escape couldn't possibly be any more inappropriate in places, it is still one of the greatest war movies of all time. The cast alone is reason enough to earn a top slot with Steve McQueen, James Garner, Richard Attenborough, Charles Bronson, and James Coburn being some of the more notable players. Set in a German prison camp, a mixed group of allied POWs anxious to get out of the grasp of their captors plot a masterful escape attempt. The climax of the film is Steve McQueen's work on the (incorrect) motorcycle. The German BMW R75 was not up to riding required for the scene so (ironically) the British Triumph TR6 was disguised as the BMW and cinematic history was made. Despite the upbeat musical theme that punctuates nearly every scene of the movie, the plot is incredibly dark. The escape attempt is only successful for a handful of the POWs. Nearly all of them are caught or killed in the run for their lives. Nearly all of the German soldiers in the camp are armed with the P08 Luger. However, McQueen attains one in his ambush of a German motorcycle soldier. He claims the Luger and the soldier's uniform to assist in what becomes a futile escape attempt. Like the undisputed king of cool, our blowback P08 replica does its own stunts, too.
3. "The GLOCK 7. It's Made in Germany..." Gaston Glock *Laughs in GLOCK.
It's actually kind of hard to not find a movie that the GLOCK 17 has not been featured in. This was the handgun that started the polymer, not ceramic, pistol wave. Gaston Glock made a strong, lighter weight, reliable handgun, which, despite its chunky appearance, became an overnight success. The timing couldn't have been better for GLOCK. Law enforcement agencies were in desperate need to upgrade from the low capacity double-action revolvers they had been carrying for the past 70 years. Ergo, the GLOCK Model 17 exploded (figuratively) across the US. I'll pay lip service to Die Hard (Christmas movie?) and Bruce Willis's woefully silly line about the GLOCK, but the movie I'll focus on is the 2017 Nuevo-western Wind River. Starring Jeremy Renner and Elizabeth Olsen, Wind River presents viewers with the sad facts of life for indigenous women living on reservations. Renner, a wildlife officer, begins an investigation that is stymied by indifference and tribal jurisdictions. FBI agent Banner (Olsen) shows up with her G17 in tow to help break-through the mystery. Shooters will appreciate that Renner has a reloading bench in his cabin as well as a slick Marlin 1895SBL .45-70 that he totes on the job. While the gunplay with Olsen is not extensive, the film itself offers a vivid, poignant, albeit graphic look at crimes against women- underscoring the need for personal self-defense training and tools that can help level the disparity of force in sex motivated crimes. Speaking of training, our GLOCK 17 models are terrific tools to train with. Quiet, cheap to operate, and safe (in most places) for backyard practice, our GLOCK 17 Gen 4 will fit in your holster and give you realistic blowback action while shooting.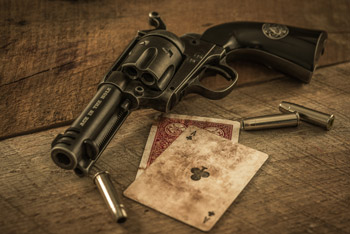 4. Your Ace in the Hole is an Expendable
As much as it pains me to write this, Sylvester Stalone's odd sidearm in The Expendables is the inspiration of our Ace in the Hole single-action revolver. The pain comes from Stalone's well-documented attitude towards the Second Amendment. Yes, it's rare to find an actor willing to openly embrace the Second Amendment, but those who publically and often trash it while having made untold millions brandishing a firearm on the big screen is truly frustrating. That being said, The Expendables is a fun film to watch, but not up to the high standards set in the golden age of action-adventure films. Stalone's character Ross carries a unique single action army that has been cut down and ported for quick action and close-quarters work. Our homage to this super cool sidearm is very accurate to film version with a few creative licenses taken here and there. Check out our Ace in the Hole here.
5. The Walther PPK/S Stands Tall at Skyfall
One of the most iconic handguns of all time is the Walther PPK. OK, that's a very controversial statement that might be a little difficult to back up. This is where I'll drop three numbers on you: 007. Yup. Bond. James Bond. While the lion's share of the Bond films have featured the PPK version of Walther's aesthetically perfect gat, the more recent Daniel Craig Bond flick Skyfall paid homage to the younger, +1 round PPK/S. The Daniel Craig era Bond films are very watchable and rely on all the old plot devices that have worked for 50 years of Ian Fleming's ultra-spy work on film. Being that it is a true Bond film you won't have to look very hard to find the PPK/S as it is in several scenes. Luckily for you, you also don't have to search very hard to find our .177 BB PPK/S. Click on the highlighted text to get the sexiest Walther ever made.
6. A Real Diamond Looks a Lot Like an HK USP
The HK USP is a really fine sidearm. But one of the obstacles in the way of owning this fine German-built pistol has always been price. There are simply too many lower-priced options on the market that make choosing the USP a bit hard for the average American consumer. The USP wasn't really constructed for the civilian market, but HK is glad to sell them to the discerning consumer nonetheless. For reasons I'm not quite certain, the USP doesn't appear that often on the silver screen. The most notable example I can find is 2006s Blood Diamond. This action movie set in Sierra Leone tackles the diamond industry and has no shortage of interesting weapons brandished about. Both the USP and USP Compact are members of the firearm's cast in the hands of both antagonists and protagonists. Blood Diamond is a good film to play Name-that-gun with and remind yourself that diamonds are more common than you think and certainly not worth someone's life, or arm, to attain. You don't have to let the price hold you back from our HK USP or USP Compact. Click on the highlighted text to find the blowback USP in .177 or the USP Compact in 6mm airsoft.
7. If You Want Peace, Keep a Peacemaker Handy
The old west and the genre of entertainment that has sprung from its well-watered tales is as far as you need to look to find Colt's Single Action Army "Peacemaker" in action. There have been so many westerns featuring the legendary Colt that one could append a list to a dartboard and give the ol' dart a toss to find a film featuring it. I didn't do that. I did select a film that I feel is representative of the real legends of the west and classic western cinema, and that would be 1957's Gunfight at the O.K. Corral. This film tells the story of a chief of police, Doc Holliday, enforcing a gun-free zone law in the city of Tombstone, Arizona. Wait, what??? Yep, the good city of Tombstone was a veritable utopia of peace and tranquility in a dry, thirsty, and violent land. That last sentence may have elements of truth and vast swatches of fairy tale in it. Be that as it may, it's a western and people are gonna get shot. If you keep your eyes peeled you'll see plenty of Colts being wheeled about. Click here to gawk at our Peacemaker pellet pistol.
8. Try The Walther
The John Wick movies stand in stark contrast to the common Hollywood film fodder these days. Wick features actual com-blockesque villains, impossibly sweet hand-to-hand fighting, fast cars, and dogs. Did I mention guns? If you are into guns, you will see all kinds of hardware featured throughout each and every film of this series. While there are a few other movies that feature Walther's flagship centerfire PPQ, John Wick: Chapter 3 – Parabellum is the coolest by far. Spoiler: Only the bad guys are slangin' the PPQ. Here's some good advice to live by; don't kill some dude's dog, just because he doesn't want to sell his classic car. He may spend the next few years coming after you and all of your henchmen. But do pick up our PPQ. We have a .177 pellet version as well as several airsoft versions.
Stay tuned because we have two more installments of Umarex Airguns on the Silver Screen!
Mark Davis, family guy, avid outdoorsman, and outdoor writer is the social media specialist for Umarex USA.