Air rifles are not stagnant products. It might seem that advances in the craft of building air guns might have plateaued but nothing could be further from the truth. While PCP (Pre-Charged Pneumatics) are all the rage in the current environment, not everyone is super excited about the idea of pumping up a PCP tank or investing in an HPA compressor. That being said, we've revisited the classic under-lever design and added a twist of awesome to it. How? By including a low-profile rotary magazine that holds 12 shots!
The Best New Air Rifle Offers 12 Shots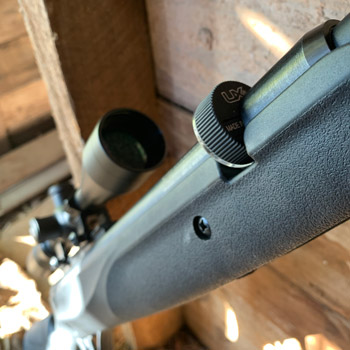 Repeater air rifles are nothing new. It's been done before, but it hasn't been done like this. With the Synergis, we used an auto-indexing magazine design that sits extremely low on the barrel. Unobtrusively low. Like really low. With the Synergis there is no need to exaggerate the scope height with extra-high rings. If your rings and scope will clear a front sight on a break barrel, it clear the Synergis magazine just fine. This alone is worthy of your consideration. The Synergis just plain looks good compared to other designs.
Low Profile, High-Performance Air Rifle
A casual observer might actually miss the RapidMag housed on the barrel, but they will not miss the under-lever tucked under the barrel. Once again, under-lever pellet rifles have been around for ages. These rifles offer fixed barrel accuracy that is consistently repeatable. While a good quality break-barrel can be shot with great accuracy, an under-lever design can shrink that group down even more. One trade-off that shooters have historically made with under-lever style air rifles is in weight. All the extra metal in the cocking assembly tended to make this style of rifle a little piggish on the nose. We've cut the weight down in two ways with the Synergis. Wary observers have noticed looks a bit like the Gauntlet. Yes, like the Gauntlet, the Synergis uses a shrouded barrel. This creates a rigid mount in the receiver block and reduces weight considerably. The cocking lever on this rifle is hollow. A tube is stronger than a solid cylinder of the same diameter, and that is the route Umarex has taken to create a stronger, lighter cocking lever.
All-in-all the total weight of the Synergis is about the same as a standard break barrel rifle. This will be a welcome fact too small game hunters who hike off into the woods with their air rifle on the shoulder.
Making Power, Making it Count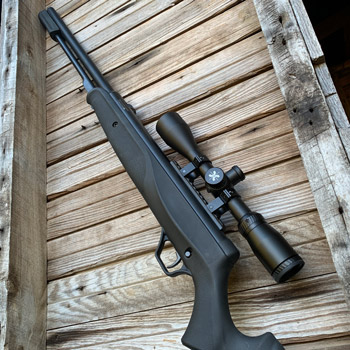 Mounting the magazine on the barrel presented its own set of challenges. Namely, how do you get air through the magazine and launch a pellet without losing air or having the magazine fall out? This was not an easy problem to solve and it was even harder to get the velocity up where we wanted it. But thanks to some really smart people (engineers) we managed to succeed in delivering all the air to the pellet just the way we wanted. With a .177 caliber lead pellet, a shooter should expect velocities around 1,000 FPS and with an alloy pellet around 1,200 FPS.
Like a rifle of any type, each one has a barrel that performs its best with a certain round. We're not done shooting a variety of pellets out of it yet, but so far we've found that it doesn't really like heavies, but something in the middle like an 8.2- 10.4-grain pellets have shown great power and accuracy.
We've really had a great time taking our sample out to the range and out in the field. Even though loading the magazine takes a small chunk of time upfront, being able to fall directly into your next shot without too much to-do does wonders for your concentration. Not to mention the frustration of digging in your pellet tin and dropping a pellet when is history with the Synergis. Your follow-up shot is ready to go with a pull of the cocking lever. So if you are looking for something new and something that works and haven't been seduced by the PCP siren-song, the Umarex Synergis might be just the rifle that you are looking for. I mean, it's just $175 on our website.
Mark Davis, outdoorsman, family man, and outdoors writer, is the social media specialist for Umarex USA.