The Best PCP Air Rifle for the Money: The Umarex Gauntlet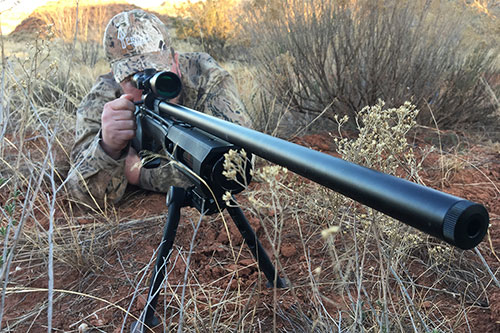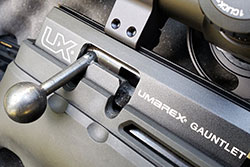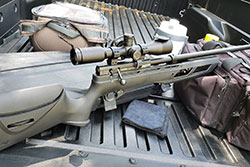 The Umarex Gauntlet for Under $300
The Umarex Gauntlet provides a huge number of consistent, powerful and accurate shots from just one fill of its tank. This translates directly into outstanding performance for hunting, Field Target competition and just-for-fun plinking. The Umarex Gauntlet offers the performance of $1,000+ PCPs for an MSRP of just $299.
Everything about this air rifle has been optimized to set the new standard in PCP performance. We've thrown down the gauntlet. This is the PCP air rifle every shooter wants!
$299.99
SHOP UMAREX GAUNTLET
Now Available in Multiple Calibers
---
High Performance PCP Air Rifle for Hunting and the Range
---
Multi-shot PCP
The Gauntlet achieves these huge numbers of shots using its high capacity 13-cu. in. regulated tank. The built-in regulator delivers minimal FPS variation from shot-to-shot for long flat shot strings. This multi-shot repeater with an adjustable trigger uses easily loaded interchangeable 10-shot magazines for rapid bolt-action firing. One mag is supplied with the Gauntlet and additional magazines are available as accessories.
Near Silent
The Gauntlet's 3,000 psi air tank is easily filled using the built-in, standard Foster quick connect fitting. For extended shooting sessions, a simple pressure release key (included) allows the compact regulated tank to be unscrewed when pressure is low. It can be replaced with another, fully charged PCP tank for extended shooting periods, without the need to carry bulky HPA tanks or a hand pump. Its fully moderated design means the Gauntlet is incredibly quiet. Both stealthy backyard plinkers and serious hunters benefit from its ability to provide rapid, near-silent, full-power follow-up shots.
Well-balanced
To maximize its accuracy capability, the Gauntlet is well-balanced and has integral standard dovetails for scope mounting. The easily adjustable stock comb is adjusted by the turn of a knob and locks into position for the ideal cheek weld, whatever your physique or optic choice. Target shooters will appreciate the included single shot tray for the ultimate in precision shooting. At 8.5 lbs, the Gauntlet is a comfortable air rifle both at the range or in the field. The stock's integral studs allow a sling to be fitted for easy carrying on a hunt.
Umarex Gauntlet Features & Specs
Caliber: .22 (5.5mm), .177 (4.5mm), .25 (6.35mm)
Ammo Type: Pellets
FPS w/Alloy Pellet: 1000 (.177), 950 (.22), 895 (.25)
Stock Material: Synthetic
Barrel Length: 28.5"
Overall Length: 46.75"Accessory Rail: 11mm dovetail
Weight: 8.5 lbs
Capacity: 10, single shot option
Trigger: Adjustable, single stage
Air Flow: Regulated, non-adjustable
Mechanism: Pre-charged Pneumatic, bolt action
Warranty: 3-year limited warranty
SHOP UMAREX GAUNTLET
---
Sign Up for Our Newsletter
When you sign-up for the Umarex Airguns newsletter, you get these benefits:
Gun giveaway notifications.
First shot at discounts and deals on airguns.
Major events including shows and airgun competitions.
Unsubscribe ANY time - no issues, no outside shares, no spam.