If you find yourself working from home or having a lot more time on your hands at home rather than your usual haunts, airsoft may be the cure for the Social Distancing blues. Let's take a look at three airsoft guns that you can use in your home during this weird time we now live in.
It's Like Darts, but Better!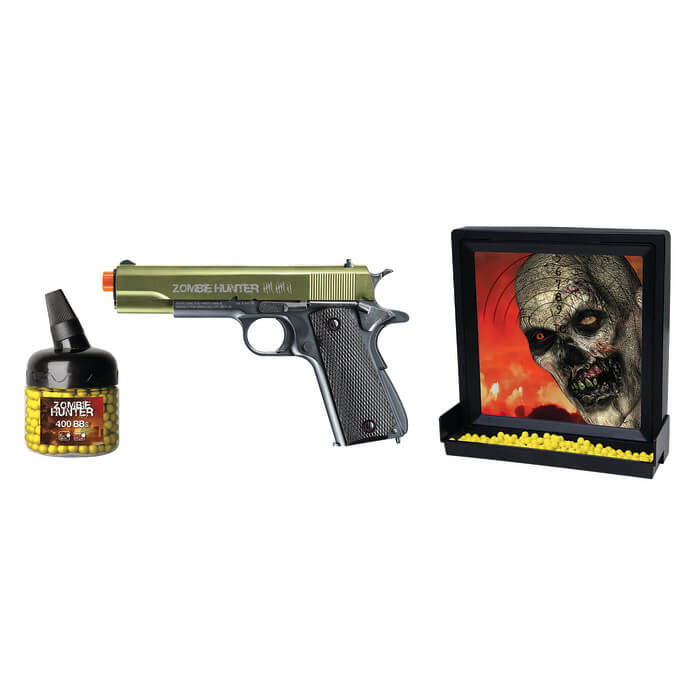 Tossing darts has always been a fun way to pass the time and have a little friendly competition.  Our take on darts doesn't require you to hang a heavy board on the wall or keep pointy projectiles out of reach of the little guys.  No, we have the Zombie Hunter Target kit. This comes with a sticky "Zombie" gel target that catches the BBs shot from a similarly themed 1911 styled spring airsoft pistol. This pistol shoots 0.12g plastic airsoft BBs at a modest velocity that makes it perfect for in-house use.  The sticky gel target catches the BBs but also has a tray to catch any that bounce off. This kit also comes with a good supply of BBs and can be found on our website by clicking here.
Great Value and Performance? Game On!
The sport of airsoft is like many other hobbies out there-- it can get expensive really fast. If you are testing the waters of a new hobby, it's really nice when you can find a product that can let you have a good experience and get the job done without costing an arm and a leg.  One product that keeps coming up as the pistol to get for airsoft that fits the criteria above is the Combat Zone Enforcer. It's less than $40 MSRP, it's powered by reliable 12 gram CO2, spare magazines aren't that expensive, and it works really well.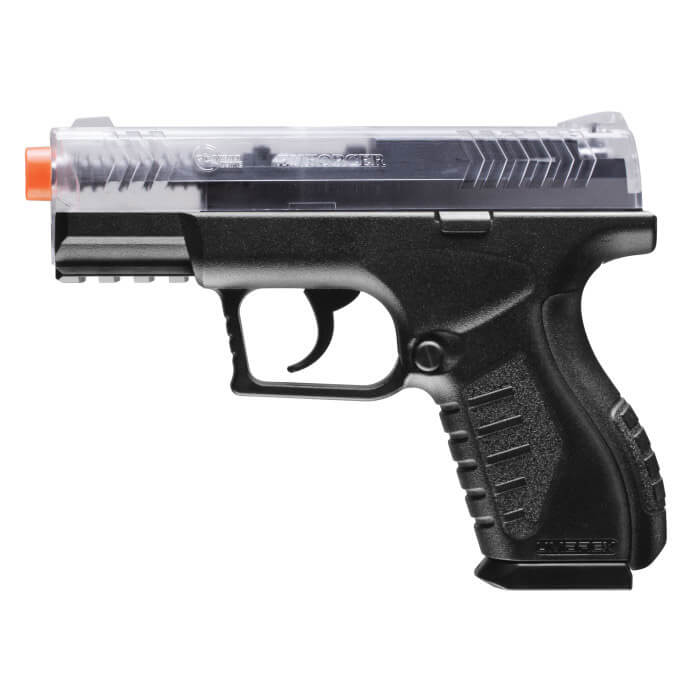 So who is saying this?  Four years ago when I was working in our Service Department I kept hearing dealers, as well as seasoned players, recommend the Enforcer to new players looking to pick up an airsoft pistol for not a lot of cash. Given that recommendation, there's also the case of off-label use, so to speak. CO2 powered airsoft pistols are a great way to run squirrels away from your bird feeders without hurting them. Who knows?  You may find many more uses for our fun little Combat Zone Enforcer!
Home on the Range or Home is the Range?
Please don't feel misled here. I apologize in advance because this last entry isn't just one airsoft gun. No, it's the whole category of licensed airsoft replicas. Umarex has long been known as the "King of Replicas". This started in the blank firing world and quickly expanded into pellet and BB pistols and shortly after that into 6mm airsoft. One thing that has started to gain major traction outside of the sport of airsoft is using airsoft to train for self-defense (Practice To Protect), force-on-force, and handgun competition shooting.  
Heading to the firearm range with a new shooter can be a very intimidating experience for that shooter. Learning to listen and speak through various levels of hearing protection, recoil, and a few other factors can turn off the new shooter before they've even started. Our licensed airsoft replicas allow an instructor to demonstrate the full function of the firearm in question without the noise, recoil, and high stress of the live fire range. 
Not only this, but most of our replicas fit into many of the holsters used for the firearm.  This means shooters can practice drawing from concealment, draw-shoot-reholster drills or whatever scenario they can envision-- all from the comfort of their home. 
Head over to our airsoft pistol page and search by brand all of the officially licensed replicas we carry. 
Mark Davis, avid outdoorsman, family man, outdoors writer, and resident Sasquatch is the social media specialist for Umarex USA.