The data pouring in from the National Shooting Sports Foundation is telling us that the rush is on. Again. Both ammo and firearms are hot items and any bargain purchase of such is but a bitter memory. I can't wait for the next local gunshow. The current situation has also brought some terms associated with "prepping" to the top of search engines. People are looking for tools and gear that will help them out if TEOTWAWKI (The End Of The World As We Know It) turns out to be this very moment we are living in or another such moment soon to come.
One item that often comes up in such discussions is a small game taking device that won't sound off a loud report or consume precious firearm ammo resources unnecessarily. This is where air rifles, particularly break barrel air rifles really shine. Why? If you've got pellets and the rifle, you have all you need. It's that simple. One pellet rifle and several tins of pellets will supply you with thousands of shots for effective small game harvesting and you won't bust one primer doing it.
Let's take a look at a few of our hard-hitting break barrel rifles that you might find to be an essential bit of survival kit for now or the future.
Umarex Octane Elite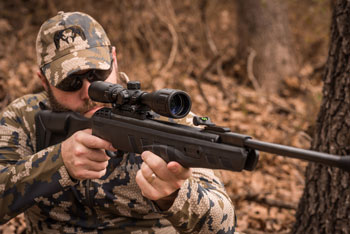 The Octane Elite is the big daddy of our break barrel air rifles. Available in either .177 or .22 caliber the Octane Elite zings pellets with authority and accuracy. Not only that, but it does a nice job of keeping sound down with its SilencAIR muzzle device. It helps to use a heavier pellet to maximize the effect of the SilencAIR device, as lighter pellets, especially in .177 caliber will still create a sonic crack. The Octane Elite also has some advanced technology in the receiver to help make shooting it that much more a treat. Recoil and vibration reduction occur from the StopShox system which works like a shock absorber for the receiver. Shooters also benefit from smooth cocking and explosive power on behalf of the ReAxis gas piston power unit. Steve Criner has laid out plenty of rock chucks with his .22 caliber Octane Elite on his web-based show Real Air Gun Hunting. Be sure to subscribe to RAGH and check out how he is using the power of air to put meat on the table!
Ruger Yukon Magnum
For some shooters, nothing but a wood stock will do. We hear you. The Ruger Yukon Magnum is every bit the powerhouse that the Octane Elite is, but handsomely equipped with a great looking checkered wood stock. This rifle is also available in either .177 or .22 caliber and can be counted on to deliver plenty of power via the ReAxis gas ram power unit and quiet performance via the SilencAIR muzzle device. Brian Kirby of Take Aim TV has been relying on small game hunting power from his .22 caliber Ruger Yukon Magnum for several years now. He posted the photo above on his Instagram a good while back and it got our attention. If this trips your trigger like it did ours, check out the Ruger Yukon Magnum on our website and get stocked up with some RWS SuperDomes to go with it.
Umarex Torq
The Torq is a hidden gem in the Umarex catalog of things. This is not considered a magnum springer, but don't let that keep you from considering the effectiveness of this reliable and accurate .22 caliber break barrel. A standard velocity .22 caliber pellet rifle like the Torq is generating between 15 and 18 ft-lbs of energy at the muzzle which is plenty of power for all small game species that we can think of. Perhaps the best feature, especially considering how stretched budgets are for most folks right now is the price on this solid performing air rifle. Click on the highlighted text here to oogle over the Torq.
One More For Lagniappe: The Umarex Synergis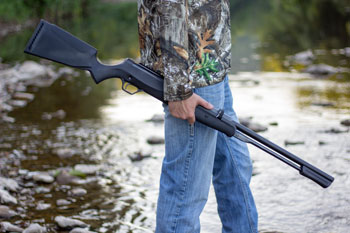 OK, I don't have anything against the number three, it's just that when it comes to thinking about great spring powered air rifles, I just couldn't let the Synergis go without mention. Even though it is most certainly not a break barrel, this underlever pellet flinger is a great air rifle to have when you need to head out afield. It's accurate, it's powerful, and it uses a 12 shot rotary magazine. Load up the magazine and go! You can shoot your limit with the Synergis and never even re-load. Right now it's only available in .177 caliber, but we will have the .22 caliber version soon!
While there's never really been a documented run on pellets or pellet rifles, now is the time to get stocked up before too many folks get to thinking like you. Just like .22LR ammo virtually evaporated overnight, the hunt for all things shooting could turn into an economy of scarcity in the pellet rifle arena as well. Happy shooting, stay safe, and be well.
Mark Davis, avid outdoorsman, family man, outdoors writer and resident Sasquatch is the social media specialist for Umarex USA.