It has been my experience that most firearms enthusiasts own a couple of rimfire guns. While we train with our centerfire carry guns and hunt with more powerful rifles, our rimfires are—more often than not—fun guns. And why not? Plinking is a fantastic way to test your most basic marksmanship skills, and it is relatively cheap.
Umarex is now building licensed versions of many rimfire favorites. If you own a Ruger 10/22, you should check out Umarex's latest addition to that gun's storied line. It is spot-on. If you carry a Walther, Umarex has you covered there, too.
If you want a functional copy of a rimfire fun gun, check out the .177 Browning Buckmark URX.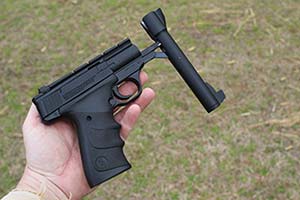 This pellet gun is the perfect plinker. To begin with, the Buckmark URX is a break-barrel. While that limits the capacity (most of Umarex's pistols feed from magazines), it also means you won't need to swap CO2 canisters in the field.
The compressed air is consistent and reliable and pushes a muzzle velocity of 320 fps. The lever, being a simple machine, is short. Younger shooters may have to work to cock it, but my 11-year-old can muscle it down with no problem.
Break-action pellet guns slow down shooting, but that's not always a bad thing. Each shot takes on a bit more significance, I find, and it is a great way to shoot and talk. I prefer these platforms for teaching basics, especially to kids, as they can focus on reloading while breaking down their last shot.
I was personally stoked to see the Buckmark URX join the Umarex lineup. I own a Buckmark Camper, and it is my go-to full-sized rimfire pistol. The Camper has a heavy barrel and a contoured grip. The gun is accurate and I can shoot more accurately with it than I can with any of the others in this class.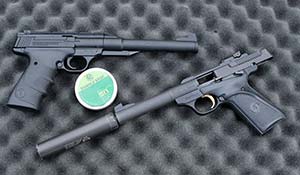 As someone who reviews firearms for a living, I shoot a lot of pistols. I've run all of the most popular rimfires, and many of the more obscure platforms. The Buckmark is the one—and the only one—I have kept and babied. And now I've got a pellet gun that's the spitting image of the original.
The Buckmark pellet gun is ideal for another reason. This is a backyard fun gun. The Browning produces enough velocity to punch cardboard. I wouldn't hesitate to use it on a rat or squirrel, but the .177 pellets—moving at 320 fps—are easy to safely manage, even in a backyard. I'm stressing backyard here because the Buckmark URX does look like its rimfire cousin. My neighbors wouldn't welcome it in my front yard.
The controls work (except for the magazine release, of course) and the gun is almost exactly the same size as the originals. Sizing it exactly is complicated by the number of grip shapes and barrel profiles offered by Browning.
The sights on the Umarex version are larger than those on my rimfire version. The rail up top is polymer, but it is ideal for mounting a red dot. I chose to stick with the irons, as I tend to equate red dot sights with speed. At the ranges I was shooting, the irons worked perfectly well.
The Browning is an ideal way to while away an afternoon. And check out the price. The MSRP on this air gun is just $45. With no added expense for CO2, the Buckmark URX looks even better. Fun, functional, safe, and easy on the wallet?