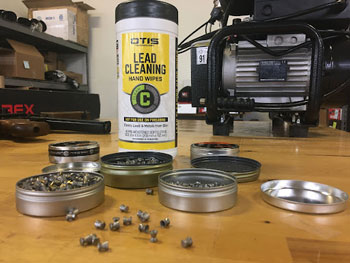 This past June JB, our marketing director, and myself headed eastward on I40 to the neighboring state of Tennessee for the 2021 POMA (Professional Outdoor Media Association) annual conference. The whole purpose of this conference is to join manufacturers directly with writers and other content creators face to face for some good old-fashioned networking. It is a busy few days where we learn from each other and can gain crucial trusting relationships with content creators who can help spread the word on our products. Yes, even in this seemingly all-digital world, face-to-face interaction is still the best way to do business.
One such relationship I was able to finally fully realize was with outdoors writer Tom Claycomb. Tom is originally from Texas but makes his home these days out west in Idaho. Now, Tom is no stranger to airguns, especially Umarex Airguns, but I had not yet met him in person. He's taken beaucoup Eurasian Doves with his Gauntlet as well countless ground squirrels that are common out in his western locale. More importantly, Tom is a guy that loves everything outside and he loves telling a story. He's also extremely talented at making connections.
Lead Cleaning Hand Wipes for Shooters?
One of our fellow attendees on the manufacturing side was Otis Technology, a company that specializes in gun care products. Tom brought over Frank from Otis who had a unique product that airgunners, particularly, pellet shooters might be interested in, their Lead Cleaning Hand Wipes. Frank gave us a couple canisters of the wipes to demo on our own since we are constantly handling lead and other metals on a day-to-day basis. And let me tell you I was never more happy to see that product in our gear supply later that afternoon.
As it often happens when on the road, it becomes apparent that there is one thing that was forgotten from the parts supply at home. I had to make a quick trip to the local Academy Sports in Franklin to pick up a set of scope rings that I somehow managed to leave out of our tool kit. Before I headed into the store, I made one more look into the boxes where a set of rings could possibly be stored when an entire tin of .25 caliber airgun pellets dumped out into the floor of the company SUV.
The whole oversized tin. Every single pellet was now shining on the floor of a huge black SUV on a 90+ degree day. Buying another tin of .25 caliber pellets was absolutely off the table since virtually no box retailers carry those big pellets. As gently as I could I started picking up the pellets with every intention to keep their skirts as free from damage as possible. This only took about 5 minutes to complete, but by the time it was complete, I had copious evidence of the task on my hands. Now you know why I was so thrilled to also have that canister of Otis Lead Cleaning Wipes on hand.
Yes, plain old soap and water would have done a good job of cleaning up my hands, but they were in the store, presumably, if the restroom inside the store was in full service. But I was outside in the hot afternoon sun and my hands were really gross RIGHT NOW. Just in general I really needed a handwashing, but with the added lead content, the reassurance of being able to scrub off the unwanted metal content from my fingertips was absolutely comforting. Lead, being a neurotoxin, is really hard on brain cells. And given that I'm not the sharpest tool in the proverbial shed, I need to retain each and every brain cell I can!
These little wipes were just the right thing at the right time. Anyone who is loading up magazines routinely, whether powder burners or pellet rifles, especially in locations far away from running water and good soap, will find that this little canister of wipes would be a good addition to your range bag or hunting pack.
Now getting back to Tom, we had several good visits during the event and one of the things we spoke at length about was the new Gauntlet 2. Tom intimated that he was very excited about getting his hands on one to take on an upcoming ground squirrel hunt he has planned. But shop talk is just shop talk. You can't really get to know someone just by talking about business stuff. When the talk turned away from the shop, I found that Tom is just a great down-to-earth fellow sojourner on this planet. He showed a humble appreciation for the simple wonders of life, his lovely wife, a beautiful sunset, a cooler full of crappie, and on and on.
We may or may not have talked about getting myself out to his lovely Idaho stomping grounds for some hunting, fishing, and sightseeing, but that sounds like the subject of another blog.
Mark Davis, avid outdoorsman, family man, and outdoors writer, is the social media specialist for Umarex USA.