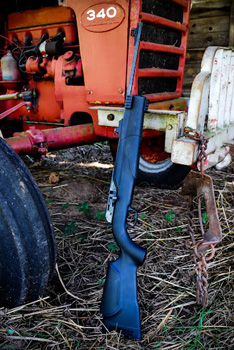 The joy of shooting is something that anyone can enjoy. Does everyone enjoy it? No, but that's their own fault. While that is a subject matter all on its own, target shooting is the theme of today's missive. Target shooting isn't necessarily about delivering lots of power to a target. The last time I checked, paper is very easy to puncture and the name of the game in target shooting is precision. Now let's not get carried away. I don't want anyone thinking that I'm some sort of precision marksman. Far from it, actually. But, I do have a number of interests that I seek to improve my performance in as my interest grows in those areas. Whether I am talking about photography, being a father, or shooting, I want to be better today than I was yesterday.
There's a hundred other areas I can list, but these low-hanging fruit examples will suffice for the illustration. And know this, there is no end to the road of improvement when it comes to developing a skill set. There was a line in the movie Lonesome Dove, paraphrased as such: "North isn't a place, it's a direction." I've tried to live my life so that it and the things I do are continually moving "north'.
Ongoing Ammo Availability/Pricing Issues? Shoot With Air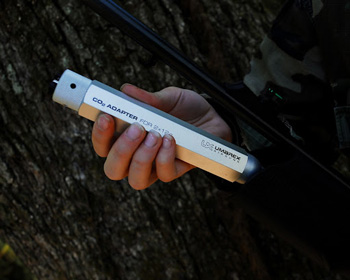 Given the perishable nature of shooting skills, regular practice is required to keep the needle pointing at the zenith. It is so easy to lose ground on the fine motor skills needed to hold what you've got let alone improve. When the perfect storm of ammo availability, lock-down measures, and pandemics entered the scene over a year ago, my firearm shooting was severely curtailed. No longer was I able to jot over to the local retailer and score a box of ammo for less than a "ten-spot".
Chances are you too have noticed that it's been a while since ammo was cheap or easy to get. But where there's a will there is a way and that is one thing that is so appealing about air rifles like the Umarex 850 M2 CO2-powered pellet gun. First of all, it's a serious piece of equipment. The rifle is made in Germany and just feels amazing when shouldered. Secondly, it is a bolt action repeater. The magazines are easy to load and the action is just pretty darn easy to operate. Thirdly, the 850 M2 is powered by CO2. While not many rifles use CO2 for a power source, the 850 M2 shines as a backyard target rifle using either the large 88-gram cartridge natively or with the Umarex CO2 Saver device or two 12 gram cartridges via the Umarex 2X12 Gram adapter that is available separately.
Quiet, Accurate, Easy to Use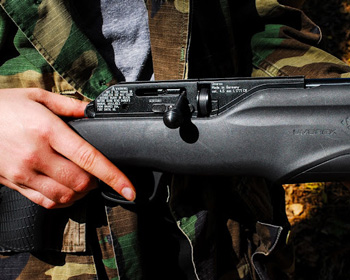 The basic points outlined above are crucially important to making a good target rifle. I feel I can make this statement not only on my own experience with it, but also on evidence provided by many customers over the years. In one of my earlier roles here at Umarex, I worked in our service department. There I discovered that the Hammerli 850, the predecessor of the Umarex 850 M2, had a cult-like following among paper-punchers. Most of these guys liked to take out their rifles early in the morning to do some shooting before breakfast or work. Others used their rifles in competition at their local shooting clubs. And still others just like being able to shoot various targets in a backyard Field Target simulation.
The UX 850 M2 was made for stuff like this. The advantages of this platform are clearly in favor of success for the shooter. CO-powered air rifles, like PCP air rifles, have virtually no recoil. Not only can you use any optic you desire, but your shooting technique does not need to account for vibration and forward shock. But, unlike PCP air rifles, getting a CO2-powered rifle charged up is as simple as installing a new cartridge. Whether you choose to shoot with 88 gram or 12 gram CO2, there's no specialized high-pressure pump, fill bottle or trip to the dive shop needed to re-power the rifle. While 88 gram CO2 may not be readily available in a local retail store, 12-gram cartridges most certainly will be. This is the way I like to shoot the 850 M2, with the new 2X12 gram CO2 adapter. This power system provides the perfect amount of power to last one shooting session and even if it doesn't, I can quickly add one or two new cartridges to shoot a little more.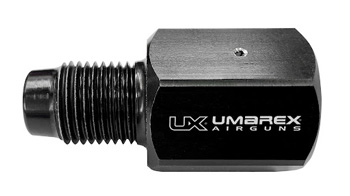 We've also just released the 88 gram CO2 Saver. This device simply adds a valve between the CO2 cartridge and the rifle and enables the CO2 to be removed without losing the remaining CO2. In either case, you can't get much more simple or easy to use than CO2 power.
The downside to using CO2 is that it doesn't create enough power to be considered a good hunting option. Yes, dispatching garden pests and small game hunting can be done with a CO2-powered rifle, just make sure that you aren't trying to set distance records in the hunt.
PCP-like Accuracy with CO2 Convenience
Another territory where the 850 M2 shines is easy loading. This rifle uses an 8-shot rotary magazine that is super easy to load and equally easy to change out in the rifle. And another obvious bonus is the shooter can stock up with as many spare magazines as he wants to keep shooting. Are you sold on this rifle yet?
If not, check this out. The new 850 M2 is ergonomically awesome right out of the box. The fiber optic sights are easy to see and perfectly placed in conjunction with the stock. As you are probably aware, adding a scope often means adjusting your cheek weld or adjusting the stock to get proper eye alignment. Umarex addressed this issue with a clip-on stock cheek piece that lifts up the comb just enough to compensate for the added height of an optic.
If you are looking for an easy-to-use, accurate air rifle and don't need heavy-hitting magnum power, check out the UX 850 M2. The 850 M2 is available in either .177 or .22 calibers. I have to admit that even though I'm not fond of shooting .177 in a break barrel rifle, loading pellets into the rotary magazine is a breeze and makes perfect sense as a plinker. If you find that you still prefer a heavier pellet, the .22 caliber option will fling out the bigger pellet with just as much accuracy but sacrifice some velocity along the way. Even though this rifle has existed in another form for well over a decade, it is still a valid and up-to-date shooter, especially considering the changes made in the M2 configuration.
Mark Davis, avid outdoorsman, family man, and outdoors writer, is the social media specialist for Umarex USA.