One good turn deserves another, right? How about one good shot? Well, the innovators here at Umarex USA have been working hard on improving our line of air archery rifles and have "one-upped" an already amazing product. Behold, the Umarex AirSaber Elite X2! Send a second arrow flying faster than Legolas to nail two hogs from your stand or have a backup shot in the event you miss with the new double-barreled AirSaber Elite X2.

First off, this beauty you see before you is much more than just adding another barrel to the AirSaber and calling it good. There was quite a bit of development and precision engineering utilized in making this air archery gun more than twice the tool you might be expecting. What do you need to know about living with the Airsaber Elite X2? Follow along and we'll clue you in on all the stuff you are curious about!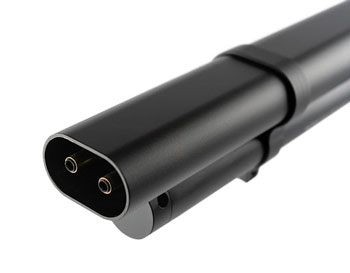 The biggest challenge with this project was the user interface. It didn't need to be good, it needed to be amazing. The shooter can shoot from either the left or right barrel as he or she prefers. Far be it from us to tell you what to do, but for the run-of-the-mill right-handed shooter, utilizing the left barrel first can make for a lightning-fast transition to the right barrel. With a little practice, this "split" can be brought down well under two seconds. Of course, lefties can simply begin with the right barrel and switch to the left for a quick follow-up shot as well. While the AirSaber Elite X2 isn't 100% ambidextrous, it is certainly not hard to operate with either hand.
Big bore air rifles and hard-hitting air archery guns both consume a lot of air. The AirSaber Elite X2 features a generous 240cc onboard tank that tops off at 4,000 PSI– about 400 PSI higher than the original AirSaber. Shooters can still expect up to 25 shots that are well within the power range for humane game harvesting. Of course, we all know that most of us hunters will only use the first few shots of pressure on a hunt. After all, a fast, flat-shooting arrow gives you more range. Expect the first five shots to be leaving the X2 at a rate of about 450 fps and generating over 130 ft-lbs of energy while doing it. The 376-grain arrow (276 arrow + 100-grain head) is really moving and allows you to accurately place a shot out to 75 yards–with an arrow!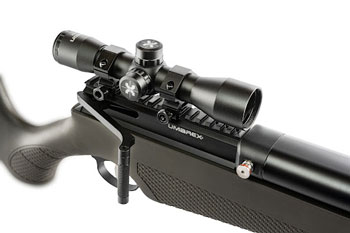 The arrows have not changed for this new model, so any existing AirSaber arrows on the market will work just fine with this new version. You'll note that the AirSaber arrows feature the traditional two "hen" and one different colored "cock" feather. Some shooters do orient the cock feather to a particular direction just to be consistent, but this practice is not necessary for optimal performance. Also shared with traditional archery is the ability to accept standard broadheads. We've had very good results with Innerloc Carnage mechanical heads as well as a new mechanical broadhead developed by Thorn Broadheads. But this is where the similarities to traditional archery depart. AirSaber Arrows are hollow so the arrow can slide down over the AirSaber's barrel. As a result, the AirSaber arrows are made with the ability to withstand the extreme influx of pressurized air into the body of the arrow.
Opportunities for air gun hunting are continuing to open up across the country. Check out this interactive map of states where air archery hunting is legal over at the Airgun Sporting Association's website. Predators can be hunted in numerous ways across most of our great states, so if a coyote or wild boar is your thing you'll likely enjoy the AirSaber Elite X2. Speaking of yotes, remember the coyote poked through the eye by Tim Wells with the AirSaber? Not to mention that a whole new category of records are now available! The Airgun Hunting Legion is keeping track of game harvested with air guns now and the Safari Club International has recently started tracking world records of game harvested with air! The power of air is serious and air archery guns like the AirSaber Elite X2 is just the serious, powerful, and accurate tool you can use to take the challenge of the hunt up to another level.
So what are you waiting for? I know– you want to see this new arrow flinger in action! Check out this video we recently made with the AirSaber Elite X2. Do note the Morrell Yellow Jacket 400+ FPS rated target used in the video. In developing our air archery guns these past few years, we've sent thousands of arrows into these targets and they hold up amazingly well. Are you ready to jump onto both barrels of air archery with both feet? If so, be sure to fill out the "Get Notified" form so you'll get first dibs on the first shipment of the AirSaber Elite X2! If you just can't wait and want to try out the original single-shot AirSaber, we have them in stock right now!