This year is a big year for us here at Umarex USA. Not only is it the Year of the Airgun Hunter, we are releasing more and more hunting quality air rifles. To that end, the extremely shootable, extremely popular Origin that was originally offered in .22 caliber has just been released for 2022 in the harder-hitting .25 caliber! Now read this correctly, this isn't an announcement that the .25 caliber Origin will be available later this year. No, far from it. The .25 caliber Origin is available right now!
And even without the help from this former social media maverick's wordsmithing abilities, the new .25 caliber Origin is a hot seller! Yes, the word is getting out and you airgunners are hearing it somewhere. So what is the word on the new .25 Origin? Here you go: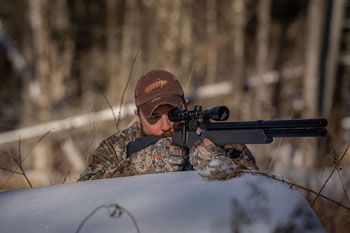 Yes, this new offering uses the same Ever-Pressure Tank system that was debuted on the .22 caliber Origin. This unique system effectively maximizes the volume of the air via a pre-charged gas piston that pushes against the air chamber. The system is designed to allow, should the shooter desire, to pump the rifle 13 times with a hand pump and get one full-power shot off. While you might not want to make a regular practice of that technique, you will be pleased to know that after about 150 pumps, the Origin is fully charged and will make 40 full power shots before the velocity makes a severe change.
How about performance? I am glad you asked. The .25 caliber Origin takes the same 8 shot magazine that the Umarex Gauntlet uses. This is good news for you as replacement and spare magazines are super easy to get. A typical 25-grain pellet will launch from the muzzle at 950 fps which translates into 48 ft-lbs of energy.
If you were holding out for a hard-hitting .25 caliber PCP air rifle for a great deal, the .25 caliber Origin is it. But here's the warning that, unfortunately, must accompany news like this, especially news of something that is in high demand like the .25 caliber Origin: Don't Wait Around. Don't wait around to pick up this rifle as it might be a day or 100 before we are able to get a re-stock in place. I know you are sick of hearing it, and truthfully, we are sick of having to say it, but the fact remains that the new normal is random, weird, and limited in supply.
All is not bad news, though. In addition to the Origin being available in .25, right now you can score both the original Gauntlet and the newly released Gauntlet 2 in .25 caliber as well. And if a full-size rifle isn't your bag of chips, the bullpup .25 caliber Walther Reign XT is in stock on our website, too! Any of these quarterbore rifles are excellent choices for hunting game up to smaller hogs/javelina or coyotes. If you are wanting to make a solid choice to expand into hunting or just wanting to stretch your abilities at longer ranges with an air rifle, Umarex has you covered! And if .25 caliber isn't your cup of lead, the .22 caliber Origin, Gauntlet, Gauntlet 2, and Walther Reign XT are available right now, too.