I literally could not have picked a better day of the year to write this blog entry on the newest addition to the Gauntlet line. Here on 3.08 day, I get to tell our fans about the .30 caliber Gauntlet. Notice I did not write "Gauntlet 2". There's never been a .30 caliber Gauntlet before, so, and in spite of some of the visual similarities shared with the .22 and .25 caliber Gauntlets, the .30 caliber version is brand spanking new and will be issued sans the "2" designation. With that bit of explanation out of the way, let's peruse some facts about this new PCP lead flinger!
One of the most notable features found on the new .30 caliber Gauntlet is the threaded muzzle. With the popularity and effectiveness of dampening devices made by DonnyFL, Umarex thought it best to leave that option to the customer. This also added barrel length to help maximize velocity on those big .30 caliber pellets.
Power is always at the forefront of the PCP airgun consumer's mind. And rightly so, it was with us, too, when we designed this Gauntlet .30 Caliber.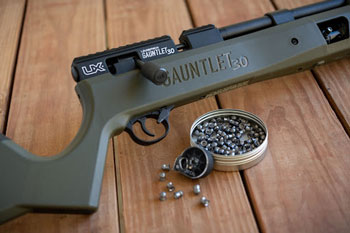 The Gauntlet puts respectable power downrange. The onboard 24 cubic inch tank is regulated at 2,800 psi. This high-pressure output is able to sling 44.75-grain JSB pellets downrange at 1,000 fps and 50.15-grain JSB pellets out of the barrel at 950 fps. For both of those pellets the energy level comes in right at the century mark, 99.4 ft-lbs at 44.75grains and 100.5 ft-lbs at 50.15 grains. With the large volume of air stored in the 4,500 psi tank, this translates into one serious air rifle for hunting. We'd even be bold enough to say you'll like the performance beyond 100 yards, too.
The overall weight of the rifle without an optic comes in at 9lbs. The receiver has a built-in Picatinny scope rail and has been opened up to accommodate the longer .30 caliber pellets found in this caliber. The trigger is still pretty decent right out of the box, with a two-stage pull coming in at around 4.5lbs. Cocking effort has been increased compared to the smaller caliber versions of the Gauntlet, however that increase in effort is offset by proper cocking technique and rewarded by the hard-hitting performance the Gauntlet 30 delivers.
And of course, the best part is that the Gauntlet 30 is available right now! You can pick it up on from our webstore by clicking right here. Also, you might want to check out the Axeon Optics EDR scope if you need some glass to slap on top of it. The Axeon EDR is a 4-16X44 second focal plane scope with an etched mil-dot reticle and side adjust focus. This scope offers essential features for accurate airgun shooting at an attractive price as well.
Training 4 Engagement– The HDB .68 Caliber Paintball Marker
In other news, another product has just hit the warehouse, one that more represents our T4E brand, but is still newsworthy under the tent of an Umarex USA blog entry. That item is the T4E HDB .68 caliber paintball marker. This marker is essentially a pistol-grip pump-action shotgun type design and is powered by a single 12-gram CO2 cartridge stored in the grip of the marker. This slide action paintball marker launches standard .68 caliber paintball rounds at 220 fps. The internal tube magazine holds 16 rounds of paint, dust, or rubber ammo. This marker is ideal for magazine-fed paintball competition, but it also does have some LE application in training scenarios as well as crowd control. By the time you read this, the allotment we had for the website will have been long since sold out, but other retail outlets should have the HDB in stock.
You can learn more about the HDB and the entire T4E brand by clicking here and here.
On the Socials: Chris Cook's Cafe's and Campfires YouTube
What else is there to say? Well, there is this. You never know where being an Umarex fan will land you. Yes, we are on the lookout for customers who like using our stuff. One such individual is Texas outdoorsman Chris Cook. While I don't know the full story about what got Chris into airgun hunting, I do know that I started seeing images of him and his Gauntlet on social media with all sorts of game he had harvested. Then once the AirSaber was released, he bought one and started hunting hogs and other game with it. He even toted the set-up complete with a ReadyAir PCP pump to Africa for a hunt. The larger quarry stayed away from the old watering hole, but Chris had good success with his Gauntlet 2 on smaller African game. All that being said, Chris has a good little YouTube channel where he shares his hunting and fishing adventures. He's not a "sponsored" or "professional hunter" and that's one of the reasons we were so thrilled to see what he is doing. He's just a regular guy that, more than anything, loves the outdoors and a superb adventure. You never know where your adventures will really take you, but we are very glad he's picked up some of our gear to take along with him!
One Last Thing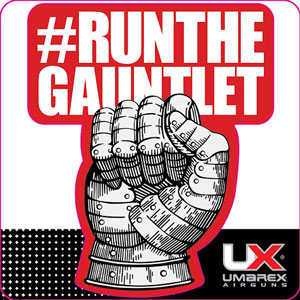 Oh, and one more thing. We've got a great team of graphic designers working here at Umarex. While on the scale of BIG THINGS, Umarex as a whole is kinda small potatoes. In the airgun industry, we do swing some weight, but when compared to other industries, we are a drop in the bucket. Is this a bad thing? Not at all. As evidenced above, we are small enough to notice our customers and small enough that we network with some really cool suppliers to help us absolutely set the pace in the airgun industry graphic design category. One such company that we often work with is Sticker Mule. If our art team can come up with a design or idea, Sticker Mule is there to transform the design from pixels to print. So we'll give this little winning piece of advice away– if you've got an idea for a sticker or some other graphic need, get in touch with them and they can make it happen.