The short month of February has found us and lots of other Umarex fans shooting at a very small target—a toothpick. Every year needs its shooting challenge and we thought "Split the Pick" sounded like a great challenge, especially since the target is just over 1/16th of an inch wide. While it doesn't take much to break a toothpick, you do have to be able to hit it!
Split the Pick is the Best Shooting Contest This Year!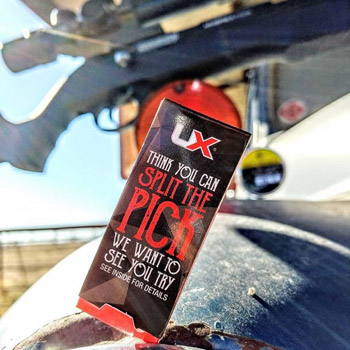 We decided that 25 yards would be a challenging distance no matter what you were shooting or how you were shooting it. For the UX Sasquatch, this meant about 33 shots off-hand at 25 yards with a .177 caliber Synergis. Thank goodness it has a 12-shot magazine! Off-hand shooting is my absolute least favorite way to shoot. Like anything, a little regular structured practice would make improvements that that is neither here, nor there. One thing I can say with confidence about my attempt at this challenge is that the rifle played no part in the misses. The trigger on the Synergis is pleasingly good. Just a little bit of take-up and a light break. Smooth. It is also an inherently accurate rifle with its fixed barrel and smooth gas piston operation.
While spring powered guns aren't exactly the rage these day, there is no reason why they shouldn't be, especially one as easy to live with as the Synergis. Yes, repeating PCPs are so easy to shoot accurately, but getting the rifle's tank filled can be less than thrilling. The Synergis has become the Squatch's favorite rifle because it gives me the best of both worlds: rotary magazine convenience and easy one stroke charging. While not 100% recoil and vibration immune, the Synergis is easy to master to achieve more than acceptable accuracy. In just a few months of having the Synergis in my safe I'm sad to say my .22 caliber Gauntlet has been gathering a little bit of dust.
Ground Hogs, Sasquatches, Tornadoes, and Air Guns, Oh My!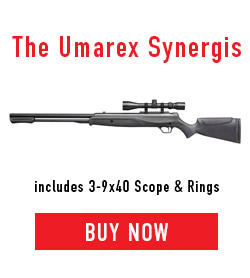 Be that as it may, we are seeing some interesting entrants into the #SplitThePick challenge. We've had some paintball entries, all sorts of pellet rifle entries, and quite a few pistol entries. Some folks are shooting from a bench, some off-hand, some supported in other ways but the important thing is that people are out in the cold shooting. I know for much of the country the month of February has been certified 9.9 on the Fujita index of weather misery (I made that last part up.) Rain, snow, wind-- all the above have combined to leave much of the country a soggy, frosty mess.
If that blasted Puxatawny Phil was right, things ought to be heading towards a mild and pristine spring any day now. Or not. Like Forrest Gump said, "[Y]ou never know what you gonna get." While the spring may hold blissful, calm weather or tornadoes, my goal for the next few months is to get out and shoot more often. And I might just take you guys along for the ride via social media live and IGTV posts.
If you haven't gotten a book of UX toothpicks, hurry up and message us on either Facebook or Instagram and we will drop some in the mail to you. If you don't think you'll make it in time (Deadline for entries is Friday, February 28th!), just use a toothpick of your own and post the video with the #SplitThePick so we can get you entered in to win a new AirJavelin! Let's see some more videos!
Mark Davis, avid outdoorsman, family man, and outdoors writer, is the social media specialist for Umarex USA. Oh, and a self-proclaimed sasquatch.