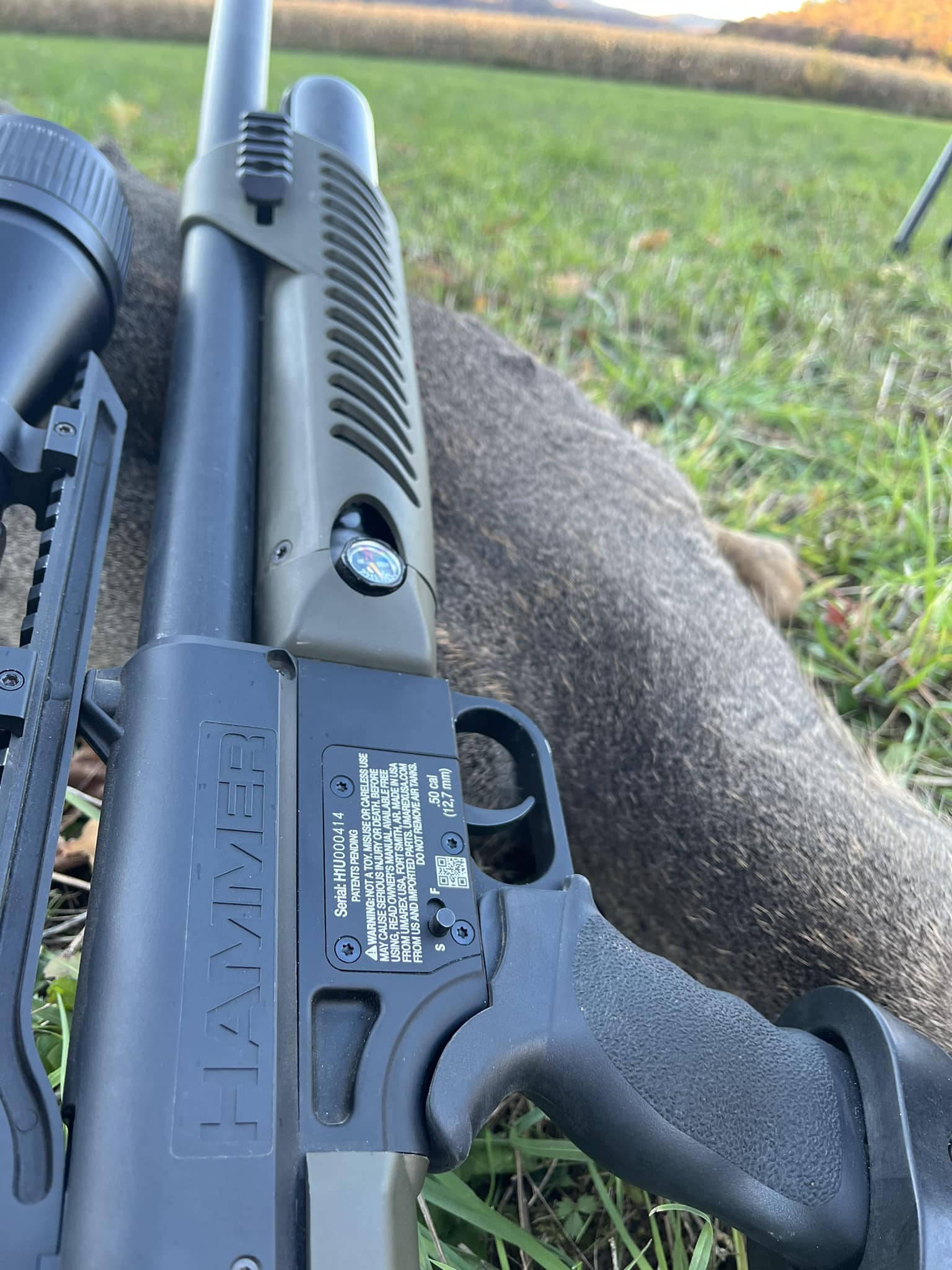 For years, Amber Nestor - one of the hosts of "The Chase with Ted & Amber" - had to leave her home state to hunt whitetails with an airgun. But earlier this year, West Virginia approved the use of big-bore air rifles for deer season. So when the state's first antlerless deer section opened on October 20, she reached for her Umarex Hammer and headed out her back door.
But Nestor was struggling as she tried to get to the blind. She forgot some equipment needed to self-film the hunt, went back and got it. Then she realized she'd forgotten her orange vest. By the time she finally sat down, she was flustered.
"It was one of those hunts where it seemed like everything was going wrong," Nestor said. "I forgot this and that. I just thought 'There's no way this is going to work today.'"
Husband Ted Nestor was off in Texas filming at the time. So Amber called him to talk things over. As she chatted with him, a doe entered the field and was just a bit more than 50 yards from the blind.
"I was actually on the phone with Teddy when everything happened," Amber said. "I was talking with him about the self-filming setup because it's not as easy to do in that blind unless you're bow hunting. I was not expecting a deer at that point, so I had to hang up on him."
While her phone buzzed with texts from Ted, Amber expertly placed the crosshairs on the doe's vitals and squeezed the Hammer's trigger. The slug slammed home and the doe dropped in its tracks.
"That shocked me," Amber said. "I actually gasped and put my hand over my mouth when I saw it didn't even take another step. It was dead before it hit the ground."
After just 40 minutes in the blind on the first day it was legal to hunt whitetail with an airgun, Amber Nestor became the first person - that we know of - to harvest a deer with that method. If another West Virginia deer was taken with an airgun before 5 p.m. on October 20, that hunter could claim the title. But, for now, Amber Nestor has a place in history.
For her part, though, that's not as important as the chance for West Virginians to harvest large game with airguns.
"Whether I am the first or not, that doesn't matter," she said. "For the past five or six years, when we wanted to go hunting with an airgun we had to leave our home state. Most of the time, we drove 24 hours to Texas. So it's really exciting to be able to go hunting with an airgun right here in West Virginia now."