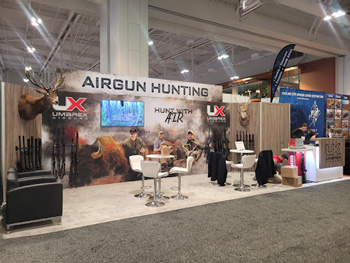 The airgunning community is a niche community. Oh, nearly anyone you meet has shot an airgun of some sort and it's not uncommon to find someone who owns an airgun. What I mean by the community being a niche is that an airgun enthusiast is a rare individual. Even rarer is an airgun hunter. You can walk into any sporting goods retailer and find a half-dozen guys who own four or more GLOCKs, AR15s, 1911s, M1 Garands, fill in the blank. You see what I mean? But finding one person who has more than one airgun of any kind, let alone someone who hunts with one, is like locating a diamond out at Murfreesboro State Park – not easy.
That being said, Umarex has been working hard at expanding the airgun hunting community. One major way we have contributed to the community is our membership in the Airgun Sporting Association. What this means is that we and some other manufacturers and retailers are supporting airgun hunting via lobbying state governments to open doors to airgun hunting in places where it is prohibited. But we are also working on expanding the good news of airgun hunting to other hunters.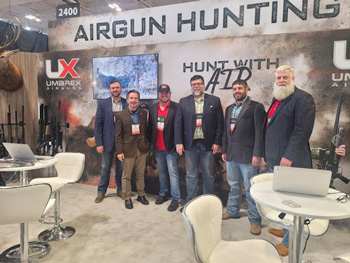 And how are we doing that? As alluded to in the title Umarex is supporting the Safari Club International. Just a few weeks ago we attended the 2023 SCI Convention held in beautiful Nashville, Tennessee, and, boy, did we have a good time! Yes, it is nice to attend an event that is relatively close to home, and it's also good to attend an event in the hunting and gun-friendly south. Our neighbors over in Tennessee were more than hospitable to everyone in town for the SCI Convention and we were thrilled to be there.
Moreover, we didn't just slap together a booth for the show and call it good, but we were also a corporate sponsor of the SCI's Night of the Hunter Banquet. In one way or another, nearly everyone who attended the convention knew Umarex Airguns were there and we meant business.
Just like last year people stopped and stayed at our booth. Crowds of people – and that was even without our honored guests - Abby Casey of American Airgunner, Tim and Sydnie Wells of Relentless Pursuit, and Chris Dorsey of Sporting Classics - being there to catch people's attention. Even though we had at least four Umarex folks in our booth at any given time, there was seldom a moment to grab a snack or duck out for a restroom break.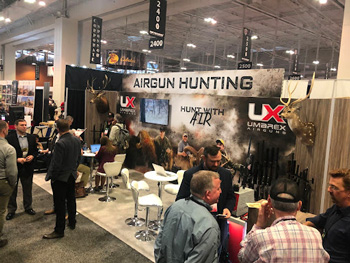 Not just every exhibitor at an event like this can block the aisles for long stretches of time, but this year, like last year, we did.
So what were these SCI members hungry to learn about? Everything! The Umarex team was teaching airgun school to any and all who would stop to listen. What game have you taken? How do you fill this thing? The bullet goes how fast? That shoots arrows?
Yes, we were all busy taking the SCI crew to school for airguns and enjoying the work! Not only were we educating these curious folks, we were writing orders for our great airguns to be sent their way!
One very good reason that SCI members are looking towards air is that there is a fresh category opened up in their record books for game taken with an airgun. How about that? Of course there was much conversation about the big .50 caliber Hammer, the forthcoming Hammer Carbine and the AirSabers but there was even more interest in our .22 and .25 caliber rifles.
Honestly, it is hard to understate how big of a hit the NOTOS carbine was at this show. Well, given the reception it received at SHOT show just a month earlier, we should not have been surprised. The truth is we were humbled by how many folks were drawn to this diminutive PCP airgun. Yes, the SCI member is a hunter first, but they are also home owners and fathers and grandfathers. As such, there's garden pests to be dealt with, youngsters who need marksmanship lessons, and general family shooting fun to be had.
It just so happens that the NOTOS is the perfect answer to all those situations and much more. If you need more evidence to support this claim, look on our website. We have none. Nothing. Not a single NOTOS in stock. Yes, you might be able to find some at another retailer, but we are out and those retailer's supplies are dwindling. Believe the hype. If you were looking for the most stealthy, compact, and accurate airgun on the market that also happens to be extremely affordable, no joke, get the NOTOS.
But it wasn't just the NOTOS that was a hit with the SCI crowd. The Origin, with its thin stock, accurate PCP performance, and hard hitting power in both .22 and .25 calibers, was the rifle small game hunters North, South, East, and West were gobbling up.
Then there were the folks looking to lay out some coyotes. The Gauntlet 30 was the scratch to that itch. The nice thing about the G30 is the extended range the bigger, heavier pellet offers alongside an impressive shot count per fill.
All said, yes, we had a great show in lovely Nashville. It was good to see so many amazing exhibitors in one building – exhibitors that aren't necessarily the same ones we see at trade shows and other consumer shows. If nothing else, going to the SCI Convention is like going to a fine art museum, gun shop, taxidermist shop, bespoke furniture store, and travel agency all in one. All you need to do to attend is join and pay for the admission to the show. A yearly membership to the SCI is only $65 and a three year membership can be had for $150.
And even better, if you are within an eight hour drive of Nashville, and that is a lot of people, you can easily make your way there for next year's convention! Yes, January 31st through February 3rd, 2024, the SCI is calling Nashville home for the next convention. Come see us there!