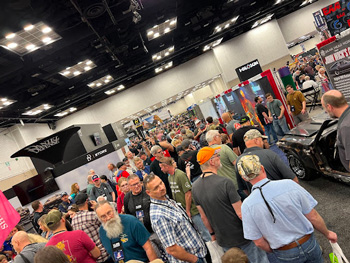 Springtime is a great time of the year for so many reasons. Not only is the grass turning green and the trees budding out, but pollen and mold counts are going up, too! With the good comes a little bad, at least where allergens are concerned. But, it's also a time of year where everyone is wanting to get out and about, including us. With this year's NRA Annual Meetings and Expositions scheduled for mid-April in Indianapolis, Indiana, we were anxious to attend. I say anxious because we really had no idea on what to expect in terms of attendance. It's no secret that the NRA is fighting for survival as an organization. I won't get into the details as you can do your own research and draw your own conclusions from that. The question in our minds, and no doubt the minds of many other manufacturers, was would the juice be worth the squeeze?
We are happy to say that hunting and outdoors enthusiasts were out in abundance at the Indiana Convention Center. The team from Umarex, Justin Biddle, Breanna Garvey, Chad Sharpe, George Ford, Eydin Hansen, and Mark Davis were busy visiting with convention attendees from the moment the doors opened until after the show closed Friday and Saturday. Sunday, historically always a tad bit more sparsely attended, but even then, the crowd was enthusiastic and eager to check out all of our gear.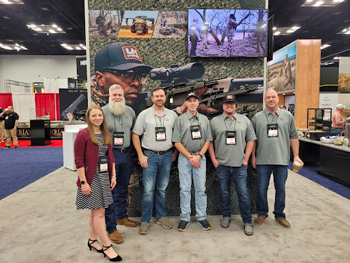 Before I go on about the show, let's talk about the host city a bit. Indianapolis is definitely a mid-western city. The people there were generally very friendly and welcoming. That being said, Indianapolis is not without its faults. Crime there, like in nearly all bigger cities, is going up. There are some "bad" areas one should avoid. To be fair, finding places that are immune to crime is a difficult task for the common man in nearly any quarter of the US.
That being said, the eats in Indy were top-notch, and we did enjoy getting out and seeing more than the inside of a hotel or convention center. One place, in particular, was out by the Indianapolis Motor Speedway, Dawson's. The food was absolutely delicious, service was great, and the motorsports ambiance was perfect for the location.
Friday morning was the official opening of the show. There were some opening preliminaries before the doors opened, a few comments were made and the National Anthem sang– it was at this point where the microphone cut out for the first several bars of the song. Was this a bad omen for the show?
Within a few minutes of the doors opening, my fears were relieved. Seemingly from all directions, folks began making their way throughout the convention center floor. Within mere minutes we had people in our booth asking questions, telling stories, standing slack-jawed– a full range of emotions, excluding the ugly ones, was easily detected by our team. We could tell the attendees were indeed happy to be there, thrilled to see their favorite brands, and stoked to talk face-to-face with representatives from those brands.
Of course, some attendees were very familiar with the Umarex brand and the scope of our products, but a good deal of people were ignorant of our brand or just didn't know about how broad our product offerings really are.
There were three attention-grabbing items in our display. The first, sitting atop of our reception desk was our Elite Force Airsoft Heckler & Koch MG-4 "SAW" electric airsoft gun. This massive "belt-fed" airsoft gun is something that the average gun fan can buy, although it is not a cheap airsoft replica. The really cool thing about the MG-4 is that most people will never see the "real steel" version in person. Once in a while, we would have a veteran come by who used one in their service. Even they were thoroughly impressed with this top-notch HK replica.
The next item to stop people in their tracks was the Legends M3 Grease Gun. The M3 is a .177 caliber BB replica that is powered by twin 12-gram CO2 cartridges. With a magazine that holds 30 rounds and spot-on attention to detail in its overall construction, the Grease Gun is dressed to impress! Many people who stopped to look at the M3 first asked if it was "real". It was then we could tell these folks a little about what Umarex is.
The third item wasn't really just a single product. It was a whole wall of products. That wall was the hunting-themed wall on which the Origin, Gauntlet, NOTOS, AirJavelin, AirSaber, Hammer, and Hammer Carbine were displayed. Many were amazed that game as large as Cape Buffalo have been harvested with plain old air and well-placed shots. Of course, the Hammer and AirSaber dominated people's attention, but the diminutive NOTOS was no stranger to attention. The .22 caliber pre-charged pneumatic NOTOS is small, lightweight, and sexy. This recipe and the positive reputation this hard-to-find airgun has earned is really becoming the talk of the airgun world. With accurate performance, ease of use, and compact performance, the NOTOS is the answer to so many different people's questions, from homeowners looking to take care of garden pests to serious hunters looking to thin out the squirrels near their tree stand. Whatever your need, the NOTOS in its super compact and accurate trim is a great airgun.
To be honest with you, yes, there were times there wasn't enough of us to go around and educate people but we did our best in spite of this.
Late in the day Saturday, a group of ladies came by our booth and camped around the P2P HDP less lethal pepper ball devices. These ladies had what seemed like hundreds of questions– and we had answers. Mark took his time and carefully addressed all of their concerns, and explained the products to them at great length. You see, these ladies were primarily from areas where self-defense is exceptionally difficult. They had access to firearms… at home but not necessarily while out and about. Yes, they had questions! He was even able to help one of the ladies out with a firearm recommendation at Umarex's sister company, Walther Arms.
All-in-all we would have to say that this year's NRAAM was a success in interacting with the attendees. We were pleasantly surprised by the number and enthusiasm of the attendees in spite of the turmoil within the organization and tumultuous political situation now surrounding the Second Amendment. As it stands right now, we are planning to make it to next year's event which will be held in Dallas, Texas.