Few guns are more fun to shoot than a CO2 powered handgun. Here are nine great Umarex pistol and revolver options that will provide hours of affordable backyard shooting enjoyment.
Like so many shooters, the very first handgun I ever fired was a pellet gun — my dad's old gun that shot pellets, BB, or darts. Since that time, I've shot a wide variety of air pistols both BB and pellet, some with blowback slides, some without, but when I'm looking relaxed fun at my backyard shooting range, you can bet all my air pistols will be there.
Whether I'm shooting at a Birchwood Casey Shoot-N-C target, adding vent holes to an empty soda can or knocking plastic dinosaurs off a rotting log, I find no end of cheap targets to punch with a replica air pistol. CO2, pellets, and BBs are cheap, so an afternoon on an improvised range costs next to nothing.
Air guns are fun, but there's also a practical side, too. A good pellet pistol is ideal for dispatching small rodents in close quarters. You can easily compete against your buddies for bragging rights. Air-powered handguns are the safest, least intimidating way to introduce a novice to handguns. The minimal recoil and lack of muzzle blast allows rookie shooters to control the handgun effectively.
Even experienced shooters should, from time to time, run through a half tin of .177 RWS pellets or Umarex BBs. They provide an easy and inexpensive way to tune-up your skills of target acquisition without adding wear to your carry gun. Air pistols offer a great platform for improving trigger control and a safe way to practice concealed carry skills.
Here's a list of nine great .177 CO2 powered handgun options currently available from Umarex Airguns. They vary in price, design and function—but they all share one common (and important) trait: they're loads of fun to shoot.
Walther PPS M2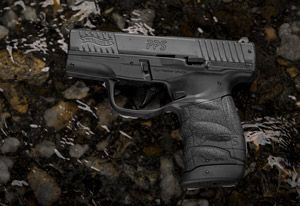 Walther makes some outstanding self-defense and competition handguns in 9 mm and .40, one of which is the Walther PPS M2. Umarex's officially licensed replica leaves nothing for want. The slide blows back when you shoot, and it shoots low cost BBs and uses a single CO2 capsule. With the air and the ammo, the PPS M2 costs less than two cents per shot. For under a dollar you can put 50 BBs down range and still have CO2 left to go.
This one isn't a replica necessarily, but it certainly has some recognizable features. Some may not like the "bling" of the golden barrel through the slide cut-out, but this is one great feeling air pistol. It has a realistic weight and a great slide action and sound. The magazine uses rotary clips and shoots pellets or BBs, but since the barrel is rifled, I'd recommend you shoot RWS Meister Pistol Pellets for best performance. Run BBs for speed.
Colt Peacemaker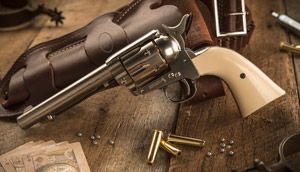 The six-shooting Colt Peacemaker CO2 revolver is one of the best selling replicas of recent years. Lots of variants have been made. It's still a top seller as a single action gun and available chambered either for pellets or BBs. Since there's no slide action, it uses CO2 very efficiently and it is fun to "reload" the cartridges and insert them into the cylinder. And nothing beats the feel of this classic in your hand.
GLOCK 19 Gen3
The GLOCK 19 needs no introduction. This compact double-stack is the go-to for many who carry concealed. Now Umarex's Gen3 version of the iconic 19 means that GLOCK fans have a dedicated training tool that feels and functions like the originals. This G19 may be the single easiest firearm to find accessories for, too, which means you won't ever be at a loss for good holsters, lights, or lasers. If you own a GLOCK, this one's for you.
HK VP9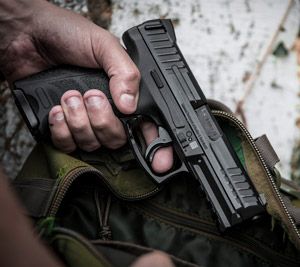 H&K doesn't have the same loyal following here in the states that it does overseas, but the VP9 won them legions of American fans. The compact polymer-framed VP9 is much more ergonomic than the GLOCKs. The VP9 BB gun has a blowback action and is an exact copy of the original, down to the trigger safety. If some of these other pistols feel a bit boxy in your hand, try the VP9—it is an exceptionally comfortable gun.
Umarex DX17
Remember that old air gun that your dad or grandpa had that shot BBs, pellets, or darts? The DX17 is very similar to that, except that it's very lightweight and very affordable. If there ever was a backyard friendly gun the Umarex DX17 is it. The spring-action means you'll never run out of air. This is my choice for teaching the basics to new shooters.
Legends M712
This is nothing like your grandpa's BB gun, though he may have been familiar with the design. The M712 is a fully-automatic version of the C96 Mauser. This broom handle houses the BBs and CO2 in the magazine, and is built with a stunning level of attention to detail. While it is a fully functioning history lesson, it is also a rapid-fire fun gun.
Smith & Wesson M&P 40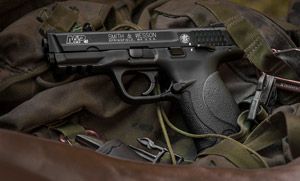 Another of Umarex's partners is S&W, and fans of American craftsmanship know the iconic brand well. The M&P pistols continue to evolve, but they're all built for hard use and a life of service. This BB gun version is modeled after its .40 S&W counterpart, and is exacting in every detail. The blowback action and working controls make this an ideal training tool for M&P owners.
Beretta APX
For decades, Beretta has been synonymous with the M9. They built the APX in the hopes that it might replace the aging M9 fleet. It did not, but the APX deserves more attention than it gets. The APX combines the ergonomics with textures that offer exceptional control. This is an exceptionally well-built line of pistols and worthy of the Beretta name. Now the Umarex APX is available for those who want the feel and function of the Beretta. There's no easier way to train than with an APX that looks, feels, and functions exactly like an original.
David Higginbotham is a writer and educator who lives in Arkansas. After years of writing and consulting in the firearms industry, he's coming back to his roots with air guns.