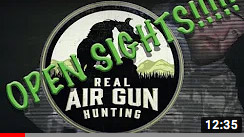 If you're a fan of air guns, nothing beats some quality range time—except maybe the thrill of the hunt. But what about the rest of your free time, when you're home, kicking back on the couch? Don't despair. Real Air Gun Hunting, is a new show that shows just what air guns can do.
The premise of the show is simple. As the title suggests, it is all about hunting with air guns. Just a few years ago, this would have been a slow show—and one terribly unpopular with fans of rabbits and squirrels. Now, there's no limit to the capabilities of air rifles. And with a host like Steve Criner, the Dog Soldier, the show is anything but slow.
How to Hunt with an Airgun
Criner amassed a dedicated following with his predator hunting skills. He's known for calling game in close and putting himself in a demanding situation, the sort of situations that most of us would hardly seek out. From knocking off rats in Wyoming with a .177 Colt Peacemaker to taking on bears with the .50 Umarex Hammer, the action is intense.
The Dog Soldier's goal is simple. Criner isn't interested in showing off impossible shots, or unbelievable kills. He's showing how to hunt with air guns. He picks hunts that are accessible to all of us. The hog hunts are my favorite, and something I wish everyone would do a lot more of. They're an invasive species. In many parts of the country, hogs are an epidemic.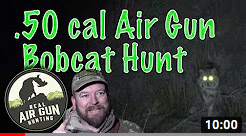 Some of the episodes that have already aired take on the fundamentals of hunting rabbits and squirrels. That's where most of us start. But that's only part of what's possible now. Criner shows how to track more elusive game like bobcats and coyotes.
New to Air Gun Hunting?
Real Air Gun Hunting is a game changer for air gun fans. Criner's skills and abilities serve as a teaching tool for air gun fanatics, true, but the show itself is showing the traditional hunting fans just what's possible. Along the way, viewers get a lesson in some practical tactics for stalking and getting in close.
After the hunts, Criner breaks down the effectiveness of his skills and the gear, and sometimes throws in a cooking lesson, too.
Modern Day Airguns Are Made for the Hunt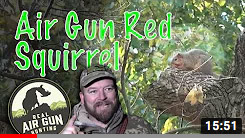 With guns like the Umarex Gauntlet and the .50 caliber Hammer, air rifles are rapidly catching up to the performance standards that were once only achievable with magnum rimfires and centerfire rounds. As local laws and regulations catch up, air guns are gaining in popularity with traditional hunters.
The show can be found on Facebook, Amazon Prime Video, and on Carbon TV, a streaming app that caters to outdoor enthusiasts. You can use the app on Apple devices, Google Play, XBOX, Roku, Amazon Fire and on Smart TVs.
For more airguns to hunt with, check out Umarex Airguns. You can follow Real Air Gun Hunting on Carbon TV, Facebook, and Instagram.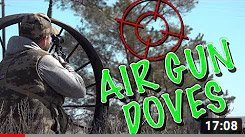 David Higginbotham is a writer and educator who lives in Arkansas. After years of writing and consulting in the firearms industry, he's coming back to his roots with air guns.