Fort Smith, Arkansas (January 17th, 2018) – Umarex USA has officially announced the introduction of the Umarex Hammer™, the American-made .50 caliber air rifle that has become the most powerful production airgun on the planet.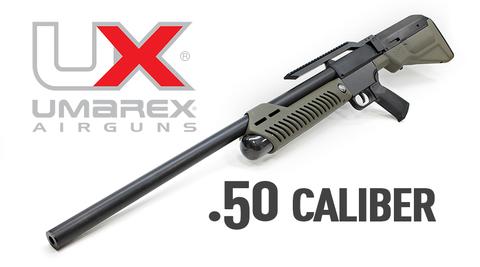 The Hammer has been conceived, designed and engineered in America and is being made in the U.S.A. Its assembly will take place in Fort Smith, Arkansas within the facility of Umarex USA. Adam Blalock, CEO of Umarex USA, Inc. said, "We continually look for products that we can make right here in the USA and more specifically, within the walls of our building in Fort Smith, Arkansas. The Hammer represents powerful innovation in air rifles and I couldn't be more excited that we're equipped to build it right here."

The sheer energy and three full-power shots delivered by the .50 caliber Umarex Hammer™ is achieved by its proprietary, patent-pending, Lightspeed™valve. The innovative engineering used to design this internal mechanism coupled with a .50 caliber, 550 grain lead slug is responsible for the generation of its 705 foot pounds of energy at the muzzle. Almost as impressive, it only takes two pounds of effort to operate its straight-pull bolt. This short, effortless, two-inch action is all it takes to cock the rifle and advance the magazine.

Umarex USA's engineers produced multiple prototypes of various mechanisms for the Hammer during nearly a two-year process that has resulted in the most innovative production big bore hunting air rifle. The soul of the Umarex Hammer is powered by our most essential element—air. 4,500 pounds per square inch of compressed air fill its on-board carbon fiber cylinder to a capacity of 24 cubic inches. The Hammer's Lightspeed™ valve, coupled with a precision regulator instantly pulses a measure of air compressed to 3,000 psi, behind the projectile. This innovative patent-pending system efficiently propels a .50 caliber 550 grain lead slug at a muzzle velocity of 760 feet per second and a 250 grain slug at over 1,000 feet per second.

The Umarex Hammer™ has a multitude of useful and user-friendly features that both hunters and shooters appreciate. In addition to being the most powerful airgun delivering three regulated, full-power shots, it is the only production big bore air rifle that offers multiple shots from its patent-pending chamber magazine—other big bore air rifles require the insertion of a round into its chamber after every shot fired. Unique to the Hammer is the utilization of two safeties — a magazine lockout that prevents it from discharging without a magazine inserted, and a trigger block safety. "You won't find safety mechanisms to this extent on any other big bores. The Umarex Hammer is the most powerful production air rifle in the world, so we charged our engineers, from the beginning, to incorporate safety mechanisms that would help prevent unintended discharges." said Steve Lamboy, Senior Director of Strategic Development at Umarex USA.

Umarex USA collaborated with PolyOne Corporation, a premier provider of specialized polymer materials, services and solutions, in the design, engineering and material selection for the stock of the Umarex Hammer™air rifle. As a result, the stock, forearm and other key polymer components are produced from Nymax™, an advanced polymer that withstands the rugged trials of outdoor hunting and shooting. Designers from the IQ Design group at PolyOne added three locations into the rifle's forearm that accept M-LOK accessories, and incorporated a sling stud into the lower half of the rear stock. Together, the advanced polymer materials and innovative design, including smooth edges and tight-fitting joints, form a modern and functional stock for the Hammer rifle that is both shooter-friendly and made to last. Richard Turner, President of Umarex USA, Inc, said, "In working with PolyOne, we targeted certain design and performance aspects of the polymer portions of the Hammer. The PolyOne team embraced our concept and the performance targets and worked hand-in-hand with our product development team to develop specific options that met our design, weight and most importantly performance goals."

The Umarex Hammer™ is equipped with additional features that include a standard AR Magpul grip, Quick Disconnect Foster fitting to fill the onboard air cylinder, externally visible air pressure gauge, a button-rifled .50 caliber barrel, and 8.5-inches of Picatinny rail. MSRP $799.99.


Umarex Hammer™ Energy Generation
| | | | |
| --- | --- | --- | --- |
| Grain | Material | FPS | Energy (ft. lbs.) |
| 180 | Umarex® ARX® | 1100 | 484 |
| 180 | Umarex® ARX® Speedbelt | 1200 | 484 |
| 200 | Lead | 1055 | 495 |
| 250 | Lead | 1000 | 555 |
| 275 | Lead | 945 | 545 |
| 300 | Lead | 930 | 576 |
| 330 | Lead (Lyman) | 935 | 641 |
| 350 | Lead (Lyman) | 875 | 595 |
| 550 | Lead | 760 | 705 |
Umarex Hammer™ Features & Specifications
Built in the USA
Most powerful production air rifle on the planet
Delivers 760 foot pounds of energy
Shoots a 550 grain lead slug at 790 feet per second
Places 3 rounds of 350 grain lead slugs within an inch at 50 yards
1,130 fps with 180 grain .50 caliber ARX Airgun Bullet
Straight-pull bolt with 2 lb. cocking effort and just 2 in. of travel
Delivers 3 full-power shots using 8 cubic inches per shot
Patent-pending Lightspeed valve
24 cubic inch carbon fiber tank holds 4,500 psi compressed air
Regulated to 3,000 psi per shot
Utilizes Quick Disconnect Foster fitting for filling
Standard Magpul AR grip
Machined Picatinny Rail 8.5-inch in length with 20 slots
Modern stock design and manufactured by PolyOne
Three slots incorporated in forearm for M-LOK attachment
Rear sling stud built-in
43.75-inch overall length
8.5 pound overall weight unloaded without scope
29.5-inch barrel length with full length composite shroud
4 lb. trigger weight
Two safeties: magazine lock-out, trigger block

Umarex sporting airguns, optics, long distance lights, and accessories are available at local sporting goods dealers and retail locations around the world. Sporting goods dealers may order Umarex products from many established outdoor goods distributors.

About UMAREX USA

Umarex USA, Incorporated is one of North America's fastest growing outdoor sport and recreation companies. Umarex USA innovates, develops and markets products under brands owned or licensed by its parent company, UMAREX GmbH & Co. KG. Such brands include Axeon® Optics, Beretta®, Browning®, Colt®, Elite Force®, GLOCK®, Heckler & Koch®, Hornady®, IWI®, Optical Dynamics™, Ruger®, RWS®, Smith & Wesson®, UMAREX®, Walther®and others. For additional information regarding Umarex USA visit UmarexUSA.com.

# # #