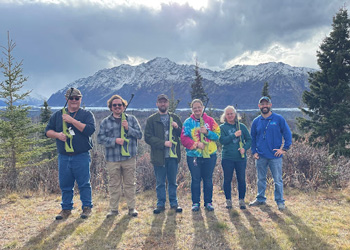 Glacier View School/MSBSD have launched a SAR program after teachers and volunteers from Glacier View School, Twindly Bridge Charter School and Kenny Lake School obtained SAR Basic Air Riflery Instructor certification. Funding for the program came from the local community and a grant from the NRA Foundation.
Using Umarex Embark rifles, the Student Air Rifle Program uses school-aligned units of study, teacher training, universal whistle commands, positive language, and standardized equipment to facilitate an introduction to the lifetime sport of target shooting to school-aged youth in grades 4-12.
"It has been a long road, but we are now building the foundation to train other instructors and spread this program across Alaska. We started teaching SAR by presenting a lesson on 'Target Shooting Safety & Range Set-Up.' The safety aspect will be carried through each step of training. We will teach the basics of Olympic-style 10-meter air riflery, by engaging the students with the equipment and the '11 Steps to Air Riflery Success,'" Alaska SAR Coordinator and Glacier View teacher Johnny Kirby said. "Glacier View School has plans to implement SAR in the Physical Education class, growing to an after school club and from that build a competitive riflery team that will compete against other schools on a local, state and national level. SAR has a foundational network in place that allows our small rural school to do that quite easily. Again, we are grateful, and would like to thank the NRA Foundation, the Student Air Rifle Program, the school administration, and the supportive community members that made this opportunity possible."
For more information, about SAR visit studentairrifleprogram.org.