Special thanks to Harwood W. Loomis at The M1911 Pistols Organization (www.M1911.org).
Remember the Lone Ranger? Return with us now to those thrilling days of yesteryear, and look at one of the newest CO2-powered BB guns offered by Umarex USA, under license from Colt. This is the Colt Peacemaker .177, an incredibly accurately detailed (and fun!) reproduction of a Colt Peacemaker Model from the late 1800s. This is, without a doubt, the most accurate Peacemaker reproduction I've ever seen in a BB gun. It looks, feels and acts real.
The level of detail and authenticity is astonishing, carrying through the entire gun. Small details throughout, tell you this is a Colt Peacemaker.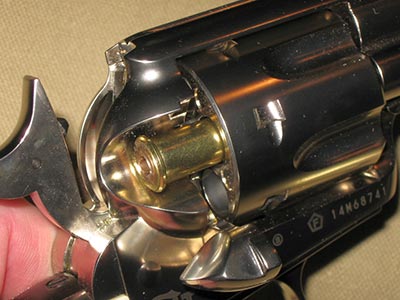 The CO2 cartridge is contained in the grip frame. The left side panel pops off, revealing space for the gas canister in the area where the hammer spring would be in a real revolver. The canister is locked into place by a set screw under the grip frame. A hex key is built into the removable grip panel.
Now for the fun part. Air gun revolvers typically use a small, pinwheel-like disk, with holes for loading the pellets. The disk is then dropped into the gun to shoot. It works, but it doesn't look or act much like a real revolver. The Peacemaker is different. Rather than load pellets or BBs into a tiny disk, the Peacemaker uses realistic-looking bullets with a hole running length-wise. The center hole contains a rubber sleeve sized to hold a BB that's inserted into the back end. The bullets are loaded into the cylinder, just like the Lone Ranger's silver bullets. It just doesn't get more authentic than this.
Between the realistic action and the weight and balance of the all-metal frame, there's enough six-gun here to "fill yer hand, Pardner" and have fun plinking. The only problem is that you'll likely want a lot of extra "bullets", and they are so popular that it's not easy to buy spares.
The Peacemaker has a manual safety. It's inconspicuously located under the frame, just ahead of the trigger guard. It's easily accessed and used, yet it's out of the way until you need it.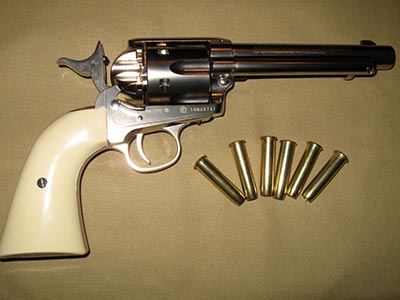 Shooting the Peacemaker is a joy—just like playing cowboys and Indians like us older kids did when we were young. The trigger pull is light and crisp, and because it's a single action revolver there is little trigger movement. BBs have plenty of power to punch through soda cans, and the Peacemaker is plenty accurate for an afternoon of backyard plinking. The Colt/Umarex Peacemaker is in a class by itself; there is nothing even remotely like it on the market today.