PELLET RIFLES
Air rifles make great target guns and small game hunting tools. Some pellet guns are whisper quiet and offer a tremendous pest control option and a great way to protect your garden. Many serious preppers consider a good air rifle a necessity in their bug-out bags. Umarex Airguns and UmarexUSA.com offers the best air rifles for hunting and survival situations. While fancy high-end pellet rifles may have the looks and power, what you really need when SHTF is a reliable Umarex air rifle, Walther pellet gun, or Ruger pellet rifle. Consider a high pressure air rifle (PCP) like the .25 caliber Umarex Gauntlet combined with a ReadyAir airgun compressor for long-term survival and small game hunting. Or an always-at-the-ready Umarex Octane or .22 caliber Ruger Yukon Magnum to put meals on the table. If you're a meateater go from wilderness to table with Umarex Pellet Rifles.
Which spring or gas piston rifle is right for you? Read Here »

Featured products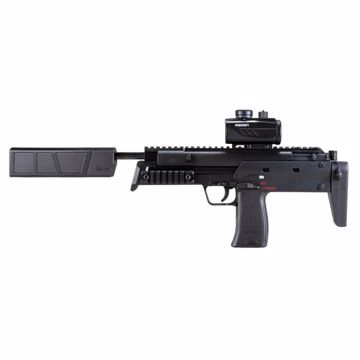 Heckler & Koch MP7 .177 Caliber Break Barrel Pellet Rifle.
3 Items in Grid
4 Items in Grid
List